More and gayer links that didn't fit in the last post!
Janelle Shane's adventures in AI learning are always good for a laugh. She trains neural networks to generate plausible new members of a data set, such as paint colors or rock band names. If you thought real pick-up lines were pretty terrible, computers are even more clueless. "Your eyes are like two rainbows and a rainbow of eyes" shows a shaky grasp of human anatomy, and I'm not even sure what this kink is about: "Will you sit on my breadbox while I cook or is there some kind of speed limit on that thing?" Although I would definitely swipe right on "You're looking good today. Want snacks?"
When I was a romantic young girl, I dreamed of the day when I would wear a Jessica McClintock wedding dress. Though the word "calico" now gives me flashbacks, I had a sweet pang of nostalgia when I read the designer's obit in the New York Times daily briefing email. "Jessica McClintock dressed generations of women in calico, lace and beribboned pastiches known as granny dresses. Her clients included Vanna White and a 27-year-old Hillary Rodham for her 1975 wedding to Bill Clinton. McClintock died at 90."
Last month I attended an online book launch for the new edition of lesbian photographer Joan E. Biren's (JEB) Eye to Eye: Portraits of Lesbians, a groundbreaking work of photojournalism from 1979. Local archivist Debbie Richards posted many historical background links in the chat, including this 2015 profile of JEB in the photography magazine Aperture, "Sophie Hackett on Queer Looking". At the book launch, I was struck by JEB's reworking of the language around the photographer-subject relationship. Rather than the dominant phrasing of "shoot" or "capture", she envisioned an equilateral triangle of relations among the photographer, her muse, and the viewer. The Aperture article discusses this paradigm shift, as well as JEB's way of reading archival photos for queer subtext.
A lot of us picked up interesting hobbies during the pandemic. Music journalist Moritz Weber decided to re-translate Romantic composer Frédéric Chopin's letters, and concluded that the Polish hero had been straightwashed, according to this article in the Irish Times:
Frédéric Chopin's archivists and biographers have for centuries turned a deliberate blind eye to the composer's homoerotic letters in order to make the Polish national icon conform to conservative norms, it has been alleged.

Chopin's Men, a two-hour radio programme that aired on Swiss public broadcaster SRF's arts channel, argues that the composer's letters have been at times deliberately mistranslated, rumours of affairs with women exaggerated, and hints at an apparent interest in "cottaging", or looking for sexual partners in public toilets, simply ignored…

…In an 1829 letter to Tytus Woyciechowski cited on the programme, Chopin refers to "my ideal, whom I faithfully serve, […] about whom I dream", and who inspired an adagio in his recent concerto. Weber argues that the context of the letter makes it clear that this "ideal" is the letter's addressee himself.

Yet a translation of Chopin's letters published in 2016 by Warsaw's Fryderyk Chopin Institute assigns the "ideal" in the letter a feminine pronoun ("not having spoken to her for half a year now") even though the Polish noun is masculine.
Them Magazine's photo feature by Amanda Chemeche on "8 Drag Kings You Need to Know" made me want to whip out my eyeliner pencil and draw a mustache on myself.
Pokémon's hapless but endearing villains, Jessie and James of Team Rocket, are queer icons for their flamboyant hair and dramatic voices. But did you know that their Bronx-accented feline sidekick, Meowth, was voiced by trans actress Maddie Blaustein? David Levesley tells "The Inspiring Story of the Trans Actress Behind Your Favorite Pokémon" in Them Magazine.
In a eulogy written after Blaustein's death in 2008, Aaron McQuade, a friend of Maddie's, claimed that her decision to transition and come out to her co-workers was inspired by an episode of Pokémon. In "Go West, Young Meowth," we learn the story of how Meowth learned to speak like a human: He fell in love with another Meowth, and decided to learn English and to stand upright to impress her. It failed horribly, and the female Meowth called him a freak. "Meowth," explained McQuade, "was a human trapped in a Pokémon's body."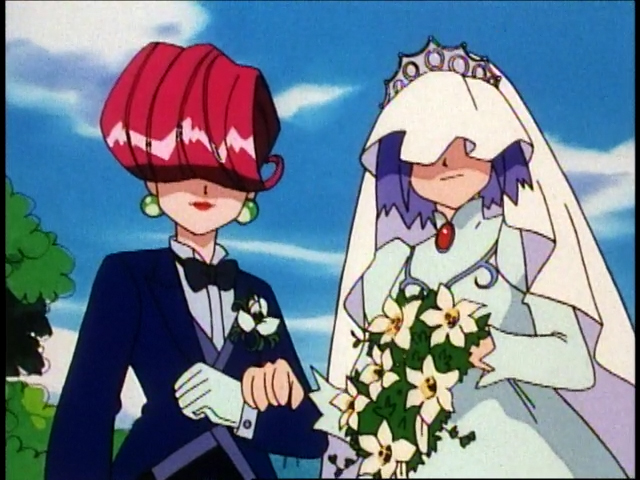 James, is that a Jessica McClintock gown?