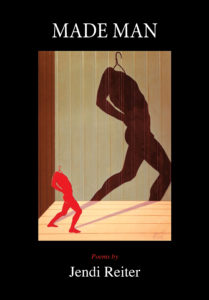 My third full-length collection, Made Man, officially launches March 1 from Little Red Tree Publishing.
Staci Wright at the American Library Association's Rainbow Round Table Reviews says:
A mix of somber moments and charming wit, Reiter's collection makes space for humor in the maelstrom of navigating gendered experiences. Their poems synthesize recent historical moments and deeply personal anecdotes to create commentary that dares you to question binaries and social construction itself. Reiter sources material from the nooks and crannies of the human experience; they sculpt each poem using anything from Scholastic Book Club books to Jewish folklore to 1970's photography series to Manhattan dumpling houses.
Poet and literary critic Stephanie Burt says:
Dense with figure and dense with thought, full of fun and full of anguish, superbly conscious of every rule they break, sometimes giving us comfort and sometimes "another live coal in your mouth," the poems in this collection work and play and travel in many directions, speak through many and varied masks. Then they come back together to point to a confident future, a nonbinary embodiment, a way past the limits of what other people have told us counts as feminine ("the mermaid bleeds lipstick"), as masculine ("chaos softboy"), as sacred, as childhood ("happy as a rubber ball"), parenthood, adulthood ("I didn't grow up. I had more laundry").
I regret that I did not send the poem below to queer theorist Leo Bersani, author of the seminal-in-all-senses text Is the Rectum a Grave? And now he has gone to the great bath house in the sky. Dr. Bersani passed away at age 90 on Feb. 20. From the NY Times obit:
Dr. Bersani was best known for his 1987 essay "Is the Rectum a Grave?," a dense, polemical critique of the tendency among some gay activists to respond to AIDS by downplaying their sexuality and emphasizing the need to replicate bourgeois heterosexuality.

Male homosexuality was not the mirror image of heterosexuality, he argued, but something radically different, lacking many of the patriarchal inequalities that he said defined straight life.

"Far from apologizing for their promiscuity as a failure to maintain a loving relationship," he wrote, "gay men should ceaselessly lament the practical necessity, now, of such relations, should resist being drawn into mimicking the unrelenting warfare between men and women."
This poem (like many of my best works) was inspired by a joke from my husband, so I guess marriage is good for something. FYI, the opening line of Bersani's famous essay is "There is a big secret about sex: most people don't like it."
Is the Roasting Pan a Grave?
There is a big secret about turkey: most people don't like it.
One November day's duty, otherwise ignored, the bottom.
When the legs are moist, the breast's dried out
With a hellbound heart, closeted clerics exhort the bottom.
The more savored the taste, the more later despised:
Rest now, fabulous martyrs who whored the bottom.
Play families, play natives' welcome spread for the plagued men:
Our schoolboy histories will not record the bottom.
But for one night, we feast together in a dying year —
What, then, that too much stuffing may distort the bottom?
We "failed to find the idea of the holocaust unbearable":
Rather police meat market into pastoral, report the bottom.
Give thanks to ghosts, our unquenchable forefathers,
Pilgrims of filth, who on their knees adored the bottom.
TL;DR? Should Bersani's words prove dry,
Read the foil pan embossed: ALWAYS SUPPORT THE BOTTOM.