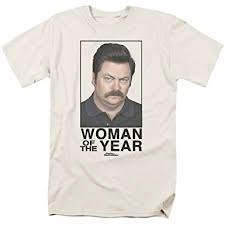 My gender is Ron Swanson.
In these last days of 2017, many of us feel our greatest achievement is simply surviving the first year of president-dictator Tan Dumplord. But there were other small but sweet milestones to celebrate here at Reiter's Block.
The Young Master learned to speak his initial consonants clearly, a mixed blessing because he has picked up my habit of saying "Oh, fuck!" We are practicing the substitute "Oh, fungus!" and giving each other time-outs when we slip up. He passed his first term of circus acrobat class with flying colors. Favorite songs are currently "I Like to Move It" by will.i.am and "Thunder" by Imagine Dragons. He is very serious about Lego.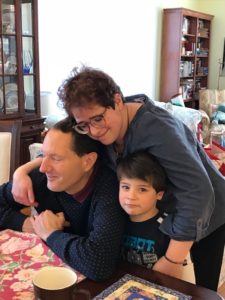 Thanksgiving with the fam.
My short story collection An Incomplete List of My Wishes was a finalist for the inaugural Sunshot Prize from New Millennium Writings and will be published in Fall 2018. Stories in this manuscript have won prizes from New Letters, The Iowa Review, Bayou Magazine, and Passages North, among others. Stay tuned for cover reveal and reading dates.
The Mirena IUD, installed in January, has given me my life back. For the first time in 30+ years, I'm not disabled for a week every month from endometriosis. These and other perimenopausal changes (hello, extra 20 pounds) have prompted me to reflect on aging, the many meanings of fertility, and a deeper commitment to inhabiting my body as-is, with acceptance and strength. I started lifting weights again with a trainer, after a 5-year parenting hiatus. I have a whole new attitude toward it since I've embraced my masculine side. I used to be afraid of bulking up, but now I welcome it.
Buy Two Natures.
Let's get into the highlights reel, shall we?
Best Poetry:
The energetic, challenging poems in Douglas Kearney's Buck Studies (Fence Books, 2017) put blackness and anti-blackness in conversation with the Western canon. For instance, the opening poem cycle reworks the Labors of Hercules through the legend of 19th-century African-American pimp Stagger Lee (the subject of numerous murder ballads by artists as varied as Woody Guthrie, Duke Ellington, and The Clash). A later cycle replaces Jesus with Br'er Rabbit in the Stations of the Cross.As great satires do, these mash-ups make us ask serious questions: Who gets to go down in history as a hero instead of a thug? Would an oppressed people be better off worshipping a trickster escape artist, rather than a martyr?
I'm currently reading Ariana Reines' Mercury (Fence Books, 2011), in which she continues her splendid dive into the poetics of abjection. An ironic, melancholy sequence about watching a violent action movie with her friends at the multiplex is juxtaposed with a vision of the Sun God's holy cattle. She manages the near-impossible feat of noticing the pornographic banality of modern consciousness without posing as superior to it, and this humility gives her work a tender and sacred quality: "under any vile sheen a soul or truth can move". Reines offers astrology readings through her site Lazy Eye Haver; I'm looking forward to my first one in January.
Best Fiction:
KJ Charles' Victorian-era paranormal gay romances are witty, sexy, and literary. I can't describe exactly why the men in her books feel like real men, not the overgrown boys in a lot of romance novels. They're worldly-wise and bear responsibilities beyond their years, and have a very British gentlemanly restraint about open displays of emotion, which makes their moments of intimacy more meaningful. The mystery plots are a delightful homage to M.R. James and other masters of the antiquarian ghost story. This year I read the Charm of Magpies series and The Secret Casebook of Simon Feximal. I'm glad she's a prolific writer because I didn't want these books to end.
Angie Gallion's Intoxic series is a trilogy (with a fourth book in the works) about Alison Hayes, a trailer-park teen from small-town Illinois who copes with an alcoholic mother, unplanned pregnancy and adoption, and the mixed blessings of a successful modeling career in California. This moving coming-of-age story is incredibly accurate about the complex emotional terrain of family trauma and recovery.
Best Nonfiction:
Johann Hari's Chasing the Scream: The First and Last Days of the War on Drugs (Bloomsbury USA, 2015) is a meticulously researched history book that reads like a thriller, with vivid characters and political intrigue. British journalist Hari unearths the junk science and racist panic behind the criminalization of addictive substances, exposes the brutality of American prisons, and profiles communities from Vancouver to Portugal where legalization is working. His takeaway findings: Drugs don't cause addiction, trauma and isolation do. Prescribing maintenance doses to addicts in safe medical settings not only cuts crime dramatically, it even reduces addiction over the long term.
Roxane Gay's Hunger: A Memoir of (My) Body (Harper, 2017) deserves all the critical acclaim it received this year.In this starkly honest and courageous memoir, the bestselling fiction writer and feminist commentator shares her complex and ongoing story of childhood trauma, eating disorders, and navigating prejudice against fat bodies. After being gang-raped at age 12, Gay self-medicated her emotional pain with food and became obese as armor against the world. She offers no easy answers or tales of miracle diets, but rather something more valuable: a role model for learning to cherish and nourish yourself in a genuine way despite society's cruelty toward "unruly" bodies.
Favorite Posts:
Is Feminism the Right Movement for Nonbinary People?
Should enbies always push for gender-neutral or gender-inclusive language in feminist activities? When feminists who identify as women decide to continue centering women in their group's language and mission, what alternative services exist for enbies to address issues that have traditionally been the purview of feminist organizing: sexual assault, reproductive rights, discrimination, and the like?
Because environments that most people find comfortable can put me into temperature meltdown, I often have to choose between bowing out of a group event for a reason that people think is stupid or untrue, or attending and making others uncomfortable with my access needs. Either way I risk being told that I don't care enough about people, when in fact I am doing invisible extra work just to "relax" with them. The emotional labor that Aspie women and female-ish people do to stay connected is not really appreciated because of sexism.
High Court to Decide on Religious Freedom to Discriminate
While the wedding cake example [in Masterpiece Cake Shop v. Colorado Civil Rights Commission] may seem trivial in isolation, it's a microaggression which, if multiplied, intentionally creates a climate of fear and exclusion for LGBTQ citizens. Consider the hundreds of small transactions and interactions you engage in each week, then imagine the anxiety of wondering whether you'll be refused service, each and every time. Think about having to calculate whether it's too risky, for your emotional and perhaps physical safety, to leave your house and go to the store today.
The Cthulhu Prayer Breakfast and the Death of White Jesus
Perhaps our modern god has been an idol of (liberal) intellectual or (conservative) moral certainty, not a real presence we depend on in our helplessness and unknowing, so when those certainties die, God appears dead. Whether you replace that with the Jesus of liberation theology, or a sense of oneness with all life, I think there has to be something we align ourselves with, above the oppressive systems of the moment, so we can name falsehood and evil for what it is, and find strength to resist.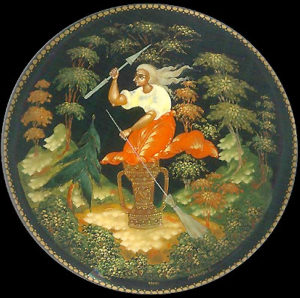 Baba Yaga sends you best witches for 2018.