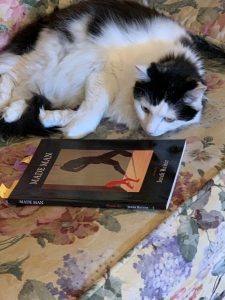 A highly eventful year on the Block!
Made My Bones: My third full-length poetry collection, Made Man, was published in March by Little Red Tree, with cover and interior artwork by friend-of-the-Block Tom W. Taylor a/k/a The Poet Spiel. Solstice Lit Mag calls it "a comitragic, day-glo accented, culture-hopping, snort-inducing, gender-interrogating rollercoaster of a ride." The American Library Association's Rainbow Round Table says, "A mix of somber moments and charming wit, Reiter's collection makes space for humor in the maelstrom of navigating gendered experiences." Made Man was included in Q Spirit's list of Top LGBTQ Christian Books for 2022 and was the subject of an essay on later-in-life transition by J Brooke at Electric Literature.
Persia Marie says, "The cover feels nice to rub my whiskers against."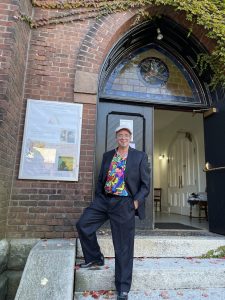 Reading from Made Man at the Brattleboro Literary Festival. Shirt by RSVLTS; suit by Hart Schaffner & Marx; body by Valley Medical Group Endocrinology.
Big Pussy: I turned my home office into a cat AirBnB for my friends' fur babies when they go on vacation. The shy and regal Persia Marie is the child of artist and writer Jane Morrison. Check out her website for sublime Greek landscapes, caricatures, portraits and more. Ginger rascals Lorca and Rilke belong to author Michael Bondhus and poet/photographer Kevin Hinkle. If you have a reasonably well-behaved cat that you are willing to deliver and pick up in Northampton, get in touch with Uncle Jendi!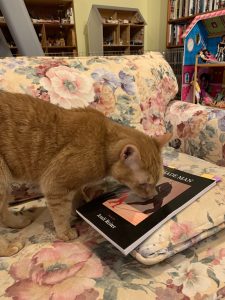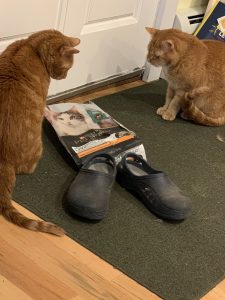 Ginny Sack Is Having a 90-Pound Mole Taken Off Her Ass: The impossible has become possible. In March I had a consultation for top surgery. My surgery date is March 23, 2023. As soon as I can lift my arms again, expect this blog to show way too many pictures of my pepperoni nipples.
My Crew: I celebrated my 50th birthday this July by meeting a dear friend in person for the first time. Friend-of-the-Block Richard Jackson, a/k/a the poet "Conway" from my Prison Letters series, visited us with his loving partner Vanity. We were devastated to learn that Van passed away in a motorcycle accident over Thanksgiving weekend.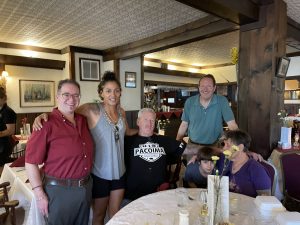 Nostradamus and Notre Dame: I graduated from Year One of the Temple of Witchcraft Mystery School. Year Two began this past September. My spellcraft is going a lot better, now that I figured out that I was trying to light the incense holder disk instead of the cone.
Waste Management: Why throw anything out when you can glue it together? I made a lot of collage greeting cards this year.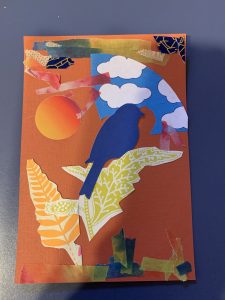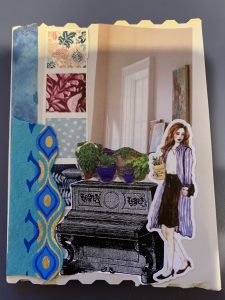 John Ollom and I will be teaching a multimedia workshop at TransHealth Northampton on May 7. We'll use collage, bodywork, improvised movement, and journaling to guide participants on a journey of gender self-discovery.
You Know Who Had an Arc? Noah: An embarrassment of riches for best books of the year, as I read three novels that would have been #1 on my list, not just for the year, but in general.
Tara Isabella Burton's sapphic boarding-school novel The World Cannot Give shows idealistic teens getting their crushes all mixed up with their yearnings for transcendence. The author understands, and eventually the protagonist does too, that sincere passions with life-and-death stakes can coexist with a highly performative, aestheticized selfhood. In other words, you might say it's a Catholic (or Anglican) book, as well as a very queer one, in that ritual and artifice are the container for authenticity rather than its opposite.
Ray Nayler's The Mountain in the Sea is a hard-science thriller set in a reshaped geopolitical environment, where humankind's aggressive harvesting of the oceans for protein may have put evolutionary pressure on octopuses to develop a civilization of comparable intelligence as ours. On a deeper level, it's a dramatization of different philosophies of consciousness, in which the impossibility of truly seeing through another's eyes becomes an invitation to rekindle empathy and wonder.
GennaRose Nethercott's Thistlefoot imagines what would happen if Baba Yaga, the witch of Eastern European folklore (and patron saint of this blog), had American Jewish descendants who inherited her chicken-legged hut. The Yaga siblings–a puppeteer with the power to bring objects to life, and a street performer and thief who can uncannily imitate anyone he meets–find themselves charged with the task of laying the ghosts of the pogroms to rest. Don't miss the chance to see Nethercott perform a puppet show dramatizing sections from her book. Join her mailing list to find out tour dates.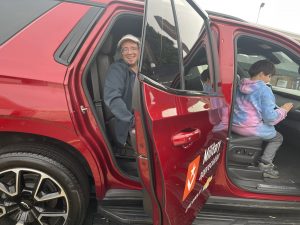 Bro time with Shane at the Big E!