Happy Pride Month! Are we excited about the upcoming Barbie movie, or are we straight?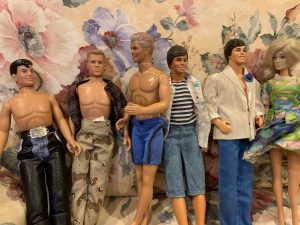 Some friends I brought home from P-Town last summer.
This 2022 article from BookRiot remains relevant amid widespread attempts to censor schools and libraries in conservative states. "Sex Ed Books Don't 'Groom' Kids and Teens. They Protect Them," writes Danika Ellis, recounting situations where Robie Harris and Michael Emberley's puberty guide It's Perfectly Normal had life-changing effects on young people. First released in the 1990s and available in a trans-inclusive updated edition from Candlewick, this book has been repeatedly challenged by right-wingers, who call it "grooming" to give kids information on their sexuality. The facts tell a different story:
[A] 10-year-girl in Delaware…picked up [It's Perfectly Normal] when at the library with her mother. Her mother let her check the book out, and when they came home, she showed her mom the chapter on sexual abuse and said, "This is me." She was being abused by her father, and it was the first time she'd spoken about it.
Fashion gets a bad reputation as frivolous (hello, femme-phobia) but here are two stories about how it can make a positive difference. "Turning Debris into Haute Couture" by Harvard Gazette staffer Eileen O'Grady describes a student design festival with an environmental message. In a materials challenge worthy of Project Runway, the participants in the Marine Debris Fashion Show had to craft stylish garments from ocean trash. The attractive and innovative runway show educated people about the role of fast fashion in creating pollution from microplastics.
At New York Fashion Week last September, queer style magazine dapperQ hosted a fashion show at the Brooklyn Museum that spotlighted LGBTQ designers and expressions of queer joy. The organizers also made an effort to include trans, disabled, and plus-sized models, affirming a diversity of beauty standards. Check out the top looks in this NBC News article.
Sophia Giovannitti's essay "In Defense of Men" in the lit mag Majuscule pushes back against "an accepted truism among left-leaning women online: cis straight manhood is bad, interpersonally and politically; therefore, any other gender or sexual orientation is interpersonally and politically better." This attitude, dubbed heteropessimism or heterofatalism by various commentators, seems like a familiar feminist complaint from women attracted to men under patriarchy. Giovannitti, however, argues that it's also a problematic way for cis women to hang onto a moral high ground as "the globally oppressed, the phallus-less, the righteous" at a time when feminism is (or should be) moving on to "a nuanced analysis of gender that accounts for race, class, and transition."
While the decrying of men by Political Heterosexuals is less overtly bio-essentialist—tending to focus on men's emotional immaturity, commitment-phobia, poor sexual skills, lack of hygiene, or failure to own a real, off-the-ground bed—it still relies on an implicit or explicit comparison with women, and thus, a binary. What makes these men men is that they are not women; what makes these women, then, women is that they are not men. In my view, professing hatred of men online is not exclusively or even often reflective of individual disappointment or in service of individual absolution; it is in service of the desire to continue to define the political category of "women" by a clean-cut opposite, in a time when it is no longer politically correct to do so…

…The performative online displays of man-hating stem from a longstanding in-person sociality: the age-old tradition of straight women bitching about their boyfriends to one another, which they do precisely to feel a sense of community with other women. It's a grasping for a pseudo-political solidarity that isn't as performative as online displays are, but that often feels like the easiest way to make meaning of the confusing, ever-present affective experience of women in straight relationships who feel failed emotionally by their partners. This is not unique to straight women, though. I'd argue it's the universal experience of romantic love: feeling fundamentally misunderstood or unmet by one's beloved—a betrayal felt so deeply only because of how known the beloved can otherwise make one feel—and whenever I find myself falling back on a "men are trash" refrain to explain my alienation from male romantic partners away, it's out of laziness or a desire for connection to those who might feel the same. This is a way to make suffering feel more communal and less punishing—to imagine that failed communication or bad sex are beyond our control, and also, to imagine that something better is out there. In other words, I don't think heterosexuality is a curse, as is so popular to profess, but desire certainly is.
Finally some good news out of Florida: a federal judge in the Northern District of Florida just blocked the state's ban on gender-affirming care for trans youth. Erin Reed's Substack newsletter summarizes Judge Hinkle's opinion, which said in no uncertain terms that the law was bigoted and unconstitutional. Erin says:
The judge pulled no punches when he resurrected lawmakers own statements to prove their discriminatory intent with passing this bill. Earlier in the year, a Florida GOP lawmaker, Representative Webster Barnaby, referred to transgender people as "demons, mutants, and imps." Numerous references to transgender people in a derogatory and discriminatory were made in the hearings, as they have been made in statehouses across the country. It turns out that getting the anti-trans Republicans on the record with their statements helped block the bill in court.

Judge Hinkle not only referenced the comments, but called them out openly as an exercise in overt bigotry. He contrasted the statements of lawmakers opposing the care with doctors, who are acting in a professional manner to alleviate the suffering of gender dysphoria…

…One of the most profound statements in the court documents was also one of the simplest: "gender identity is real." This statement, obvious to anybody who knows a trans person or is trans themselves, has nonetheless been challenged and disputed by anti-trans organizations. Transgender people are often painted as a "fad," a "choice," or a "social contagion." Judge Hinkle firmly establishes on the record that this is not the case, proclaiming and using as the basis for the rest of his decision that gender identity is real.

This is a profound and impactful statement. If gender identity is real and if trans people are indeed telling the truth about this being an integral part of who they are, then discriminating against transgender people is firmly unconstitutional.