In my post "Problems of Lineage and Magic" earlier this month, I began to explore the concept of ancestor work through the "decolonization" framework that's developing in the politically progessive witchy community. I've begun taking this four-week online course from White Awake called "Before We Were White: Ceremony and Recovery for Anti-Racist Action". Organizers Eleanor Hancock and Darcy Ottey describe it as a class for "white-identified people seeking greater emotional resilience in their work against racism and for a sustainable future. Together we will explore how ceremonial practice and a strong ancestral identity help us challenge white supremacy as whole people."
So, despite my loud-and-proud estrangement from my biological family, I'm cautiously investigating the shadow side of my rootlessness. Maybe there's a level of unburdening from ancestral trauma that can't happen until I go towards the ancestors and find out what they need me to resolve. Maybe, also, I should look at the role of my mother's ethnic and class anxiety–dare I say, internalized anti-Semitism–in my past distaste for the parochialism of Judaism and my flight towards the seemingly universal cosmopolitan individualism of Christianity. In theory the post-tribal freedom and egalitarianism of the Jesus movement and the Enlightenment still appeal to me; in practice Western Christianity and Western rationality have frequently given cover to a new tribalism of cisgender white men.
All right, then, if we're celebrating particularity, which lineage or geographical place is the framework for my ancestral recovery? Ethnically, on both sides, I'm an Eastern European Jew. My mother's family emigrated to America in the early 20th century (good move, guys!!) from Poland, though I believe they came from Lithuania before that.
This is where it gets tricky. Polish indigenous magic and folk traditions come from the land where my ancestors lived, but do they come from my people? Are the Poles and Slavs ethnically distinct from the diaspora Jews? Are the Jews a race? (Certain people in Poland infamously thought we were…) I'm not sure whether the Slavic pagan deities are allies of Polish Jews, or of the goyim who threw us out.
Judaism, meanwhile, defined itself from the beginning as opposing all forms of folk magic or worship of local spirits. Tearing down pagan altars was a full-time job for the Hebrew prophets. I feel a stronger connection to Jewish material culture and traditions–folk tales, family rituals, recipes, Yiddish songs, immigrant narratives–than to anything Polish. This the actual heritage of my biological relatives. To the extent that I have any experience of inter-generational oral tradition, this is it. However, the religion is inherently contrary to the witchy project into which I would pour these memories.
Jews also have, shall we say, a troubled history with ethnicity- or land-based identity! The decolonization mindset tells white folks, who have a bad wannabe-Indian habit, to "stay in our lane" and reconstruct the indigenous folkways of our own ethnicity instead. I respect that as a negative command: don't make up a stereotypical, commodified version of tribal practices and pollute the cultural stream for actual Native people trying to preserve their heritage. But I'm not sure about the positive command to foreground your own ethnic background as a determinant of your spirituality. As Myke Johnson asks in her paper "Wanting to Be Indian: When Spiritual Searching Turns Into Cultural Theft", one of the resources for our White Awake class:
I believe that finding and sharing our own ancestral resources might be one step, but then what? If White people turn to our own ancestral traditions, how are we being different from racist segregationists? How do we recognize our interrelatedness with all peoples, as well as the brokenness between us?
Look at where a religion of sacred land and ethnicity has brought the Jews today. Atrocities are being committed by the hawkish Israelis who find Biblical mandate for taking back "their" homeland from the Palestinians. (I support a two-state solution.) The decolonization framework of Christian imperialists versus grassroots pagans breaks down when it comes to Jewish political history. We lost our roots in the homeland because we were colonized by pagan Romans and crusading Christians, but to reclaim those roots, we have become oppressive colonizers. Enlightenment individualism suddenly doesn't look half bad.
I don't know what the answer is, but I'd like to see the literature address this question. Meanwhile, I'm off to Google "Jewish folk magic". Tonight is a Super Blue Blood Full Moon, a good time to ask my ancestors for guidance.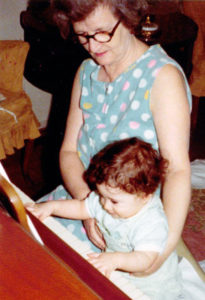 Grandma Nettie and toddler Jendi playing the piano, c.1974. She passed away when I was 6, taking her kugel recipe to the grave. I think her default advice would be "Use more schmaltz!"