The first-ever New England Transgender Pride March took place this weekend in Northampton, and I was there with my "Episcopal Church Welcomes You" rainbow tank top and a digital camera to capture the pageantry. I was hoping to blend into the MassEquality contingent, but they were scattered around other groups this time, so I just milled around looking like I knew what I was doing, and took lots of pictures. Next thing I knew, someone had handed me a bunch of purple and white balloons, and I was marching behind the lead banner, shouting "Trans Pride Now".

Without either of my moms this time, I felt anxious that I didn't have the right to be there. Straight allies are important, but on the other hand, was I co-opting someone else's oppressed subculture? (I had a Native American Studies professor in college who was apoplectic about this.) The fact is, when you're genuinely weird, and view all human social categories as potential idols to be deconstructed, the pleasures of communal solidarity are hard to come by. I have, at various times in my life, been a semi-kosher Jew and a Christian, a Republican and a Democrat, and worst of all, a Yankees fan and a Red Sox fan. I've argued for the Trinity to radical feminists and argued for gay marriage in my conservative prayer group. I genuinely want to be part of something with more than three members–heck, I even persuaded myself to get teary at John Kerry's 2004 Democratic Convention speech–but until I can find the Island of Misfit Toys on GoogleMaps, that kind of surrogate family may never be mine.

So as I carried my balloons down Main Street in the blazing heat, past neighbors who undoubtedly knew I was not transgender, I felt slightly idiotic and very conspicuous. That is, until I began to imagine that actual trans people must feel this way a lot of the time, their daily lives a constant round of puzzlement and hostility from a society that doesn't know how to categorize them. I couldn't be trans, but I could offer up a few minutes of solidarity with their experience of social exclusion, an experience that I as a straight white woman have the privilege of avoiding if I so choose.

Whereas the main Northampton Pride March in May had a family-oriented, carnival atmosphere, Trans Pride was more bohemian and political. From their placards and speeches, it sounded like many trans folks felt they'd been sold out by the mainstream gay and lesbian activist groups, particularly the Human Rights Campaign's decision to support the federal Employment Non-Discrimination Act even though protections for gender identity and expression had been eliminated. Some speakers seemed concerned that groups like HRC were selling a more sanitized, bourgeois image of gay and lesbian life that ignored the poor, prisoners, people of color, and those whose sexuality and gender identity defied easy labeling. Maybe I was in the right place after all.

Is being queer a state of mind? Is queerness, like Protestantism, inherently self-fragmenting, as the need for a perfectly authentic personal identity clashes with the equally real need for affinity groups? The more precisely you draw your doctrinal statement (or define your gender), the closer you get to becoming an army of one.

I noticed that a volunteer legal services group had representatives on hand to take down the names and contact information of anyone photographing or videotaping the march, so they could find eyewitnesses if there were any incidents of violence or harassment. This awareness of danger was another point of difference from the Gay Pride march. I don't know what the hate-crime statistics are for transgender people as compared with gays and lesbians, but perhaps transgenderism feels especially threatening to people whose sense of self and social position is based on masculine versus feminine (a/k/a strength versus weakness). Gays and lesbians, for the most part, just want to be added to the list of acceptable categories, whereas trans people are undermining the categories themselves, in a very visible way. I find some support for this project in Galatians 3:28.

The photos below were taken with permission. More videos and pictures will be posted on the TransPrideMarch website in the coming days.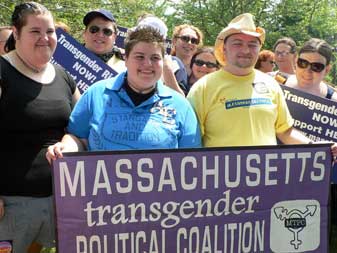 Above: MassEquality volunteer Gunner Scott (in the yellow shirt) with fellow members of the MTPC.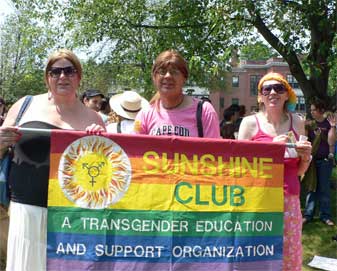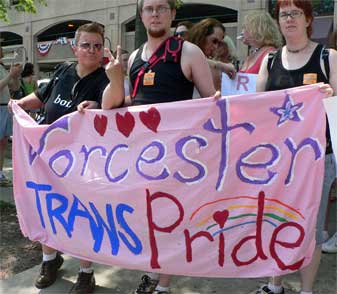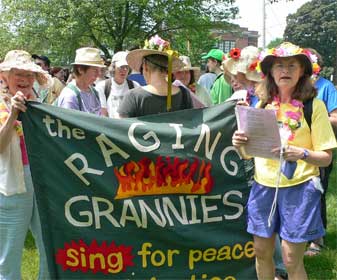 Above: Northampton's versatile and entertaining antiwar chorus, the Raging Grannies, and other groups from the parade.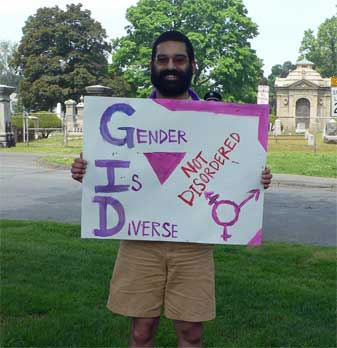 Some get the message across with words…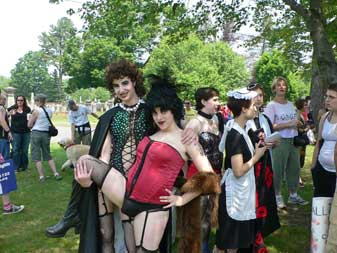 And some, just by being fabulous.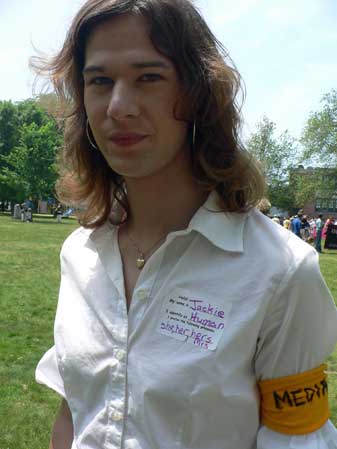 Above: Jackie Matts, one of the TransPrideMarch organizers.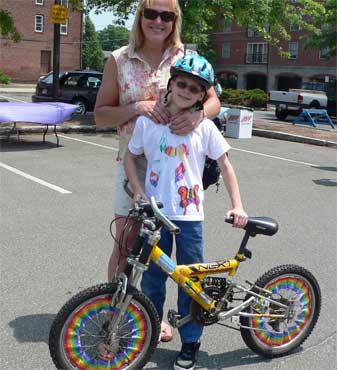 This boy was so proud of his transgender mom…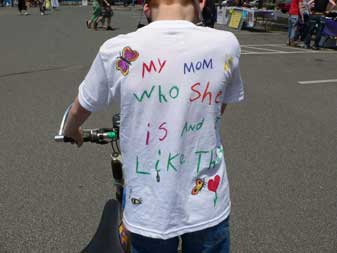 …I had to capture the back of his shirt too.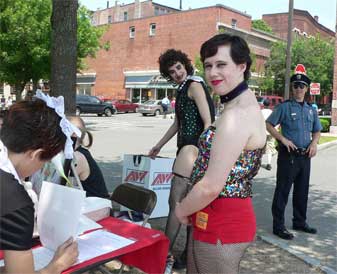 Gotta wonder what that cop is thinking.