Kittredge Cherry's Jesus in Love blog is running a series of artworks that look at the imagery of the Christmas season through the lens of poverty, racial and gender justice. The beautiful and thought-provoking images are accompanied by Kitt's daily Advent meditations. She's kindly given me permission to reproduce today's painting, "The Holy Family" by Janet McKenzie.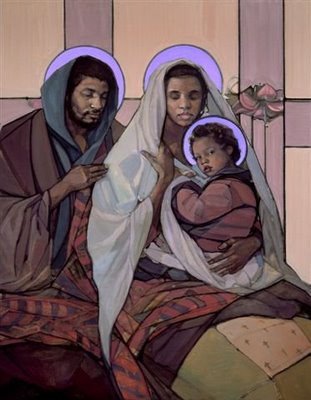 Copyright 2007 Janet McKenzie
Collection of Loyola School, New York, NY

About this painting, Kitt writes:



…Sometimes McKenzie's art sparks controversy. Her androgynous African American "Jesus of the People" painting caused an international uproar after Sister Wendy of PBS chose it to represent Christ in the new millennium in 2000. However, McKenzie says that the responses to "The Holy Family" have been accepting and positive, perhaps because it was commissioned and wholeheartedly supported by the Loyola School in New York.

"As a school run by the Jesuits, it was important to them to have such an image, one that reflects their ethical and inclusive beliefs," McKenzie explains. " 'The Holy Family' celebrates Mary, Joseph and Jesus as a family of color. I feel as an artist that it is vital to put loving sacred art — art that includes rather than excludes — into the world, in order to remind that we are all created equally and beautifully in God's likeness. Everyone, especially those traditionally marginalized, needs the comfort derived by finding one's own image positively reflected back in iconic art. By honoring difference we are ultimately reminded of our inherent similarities."

The Vermont-based artist had built a successful career painting women who looked like herself, fair and blonde, before her breakthrough with "Jesus of the People." At that time she wanted to create a truly inclusive image that would touch her nephew, an African American teenager. "The Holy Family" continues the process of embracing everybody in one human family created in God's image.
Read the full post here.