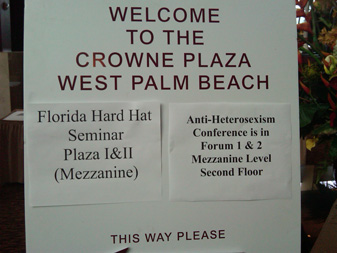 Decisions, decisions…
We return to our regularly scheduled programming today with the final installment of notes from the Soulforce Anti-Heterosexism Conference, which took place Nov. 20-22 in West Palm Beach. Previous entries are available here, here, and here.
Sunday morning's rousing keynote speech, "Debunking the Myth of Gender Polarity", by Rev. Deborah L. Johnson of Inner Light Ministries, had the flavor of a gospel worship service, combined with a radical call to envision the liberation of all human beings from false gender stereotypes. We began with Jackie Merritt and Risa Gibbs, two-thirds of the blues trio MSG, performing their satirical song "Mean Church People". (Watch this clip on YouTube.)
Rev. Deborah's main message was that our civil rights struggle is never just for ourselves alone. Members of the dominant group also suffer when their identity is built on lies and constricting stereotypes. To succeed, we must articulate a positive vision that shows how life will be better for all people when GLBT people have full equality. She also called for the GLBT rights movement to put the spirituality back into their dialogue. Dignity comes from God, not the state. "You're not equal when you get the civil rights. You get the civil rights because you declare your equality beforehand…because you are equal under the eyes of God!"
She felt that the GLBT community gets sidetracked by infighting or reaction against oppressive measures, because people in oppressed groups will take out their internalized pain on one another. Instead, they need to spend more time creating a picture of their ideal world. The burden of proof is on the people who want change. Right-wingers are very good at painting a picture of the so-called horrors that would ensue if gays were equal.
No movement for minority rights can prevail without allies from the majority group. The majority has built its identity on a hierarchy that we're trying to overturn. We have to understand their fear that there's no good place for them in our new world. "Equality displaces the oppressor." In Martin Luther King Jr.'s "I Have a Dream" speech, the revolutionary part was his positive vision of what black equality would mean for white people–a little white child and a little black child walking hand in hand. Feminism had to help men understand how they could continue to play a valuable role in the family and society without being patriarchal.
Every "-ism" (racism, sexism, heterosexism) is rooted in the idea of an immutable, unequal binary. Example: look how many people still see Obama as a "black man" first, and only secondarily as a brilliant lawyer, politician, president, etc. A prejudice doesn't become a full-blown "-ism" till it's institutionalized. It becomes constantly interwoven into social institutions and attitudes till it's invisible to members of the dominant group. The world is so much designed for them that they don't even notice their privileges. Straights don't feel defined by straightness whereas gays have to think about their sexual orientation all the time. White people don't think they have a race.
The beginning of liberation is to show that these organizing binaries are fake and based on political inequalities, not immutable natural laws. How did Obama get to be a "black man" when he's half white? It's because of how race was constructed in the 1600's to justify slavery. Any time something is mixed in, you stop being white. Similarly, heterosexuality becomes the "pure" category and then "queer" becomes like "black", a catch-all of anything tainted by less than pure straightness. Like race, sexual orientation and gender are really a spectrum, not a binary.
When Genesis says humanity was "created male and female", we can read this to mean that each person contains both genders. The characteristics that make up racial differences represent less than 1/1000 of 1% of our DNA. Gender differences are just as tiny. Our job is to redefine what it means to be man or woman so we are not two halves looking for the whole, but can be balanced within ourselves and draw on the best of each gender within ourselves instead of looking for the other to complete us.
Homophobia is so powerful because people are heavily invested in traditional gender roles and women's inferiority. The one thing GLBT people have in common is their challenge to gender nonconformity. Rev. Deborah won't settle for gay marriage–she wants "gender revolution!"
Watch a video of Rev. Deborah speaking out against California's Proposition 8 last year:
During our last round of workshops, I attended Candace Chellew-Hodge's discussion based on her book Bulletproof Faith, while my husband sat in on Timothy Palmer's workshop on integrating sexuality and spirituality. Candace's session ended earlier, so I dropped in at the end of this workshop, just in time to hear a few of the men debating whether sex in a committed relationship should be considered a higher spiritual path than casual sex. The group didn't have the time, nor perhaps the willpower, to pursue this controversial issue further.
I'm currently reading Candace's book, which I'll be reviewing here at greater length, so these notes on her workshop will be brief. With modesty and wit, she shared ways to develop spiritual centeredness so that we don't become wounded or provoked into unloving behavior by religion-based attacks. I appreciated her remarks on "the gift of the enemy". Our opponents reveal the weak spots in our psychic armor. Responding to their attacks can hone our own arguments for our position. When we can be grateful for what they've taught us, we can begin to feel compassion for them. At the same time, this doesn't mean that we them get away with abuse–only that we respect their dignity and don't fight dirty. We should also give ourselves permission to retreat from pointless conflicts where the other person isn't going to give our views a good-faith hearing. We don't need to justify ourselves because we are justified by God's infinite and universal love.
Finally, conference coordinators Drs. Marsha McDonough and Paul Dodd reconvened us for a wrap-up discussion about our impressions of the weekend and suggestions for the next event. As I recall, we spent awhile talking about whether the "anti-heterosexism" title was too negative, academic-sounding, or obscure, but didn't come up with an alternative. The general mood was one of appreciation for the fellowship we'd developed and a desire to continue this work in our own communities. Along with Marsha and Paul, Soulforce conference manager and interim executive director Bill Carpenter deserves a shout-out for keeping us running smoothly. I looked forward to his cheery and energetic housekeeping announcements. Bill will be posting conferen
ce videos soon.
Thanks to all of you for a loving, inspiring, and spiritually nurturing weekend!