All this time I thought I was just playing with dolls…turns out I was doing research!
Afaa Michael Weaver has selected my poetry chapbook Barbie at 50 as the winner of the 2010 poetry chapbook prize from Cervena Barva Press, an exciting small press based in the Cambridge/Boston area and edited by Gloria Mindock. The book will be published later this year.
Poems in Barbie at 50 have appeared or are forthcoming in The Broome Review, Naugatuck River Review, Phoebe, Conte, Juked, and Istanbul Literary Review, and in the Florence Poets Society annual Silkworm anthology.
Enjoy the title poem, first published in the Winter 2010 issue of Naugatuck River Review:
Barbie at 50
Her little girls no longer bite their nails,
the stubby hands that undressed her
have moved on to trouser buttons.
Pink polish, bitten to the quick,
or younger still, drawn on with purple marker —
now French tips and a diamond or later
an untanned line where the ring once was.
Barbie knows the world by hands and feet.
Her own are forever arched for heels,
hot pink, one sandal and one pump.
Barbie's been buried in the sand
beside mother's toes, splayed in flip-flops,
chunky piglet barefoot girls
who dunked her in a bucket,
drew on her nipples, cut and stroked her hair.
Head down in seawater,
she could have told them that midlife nirvana
doesn't need a plane ticket.
Barbie's naked as the widows
floating in the Ganges.
She wasn't there when Ken died.
A lady of her age steers clear of most events
involving small boys and firecrackers.
Pink is the color of mourning
for Barbie, who wore it on every occasion
when there was someone to dress her.
Plump hands brush pink on lined and powdered cheeks.
Barbie is carried out in a box.
Hands turn over tags,
hunting garage-sale bargains.
Nude, she lies back on the picnic table,
points her inked-on breasts to the sky.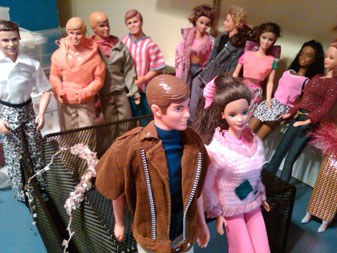 Fans wait on line for a signed copy.