Summer is here, and the smell of roasting meat offers enterprising Christians new opportunities to start those all-important conversations over your backyard barbecue. The imachristian.com store's "Gifts for Father's Day" page offers this lovely apron that shows which side of the grill you're on. What better way to impress upon your guests the urgency of escaping hellfire?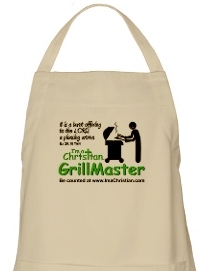 For those of you with a mote in your eye, the fine print says "("It is a burnt offering to the LORD, a pleasing aroma" – Ex 29:18, NIV)"
If Father's Day is not your thing, other designs include "I'm a Christian Empty Nester Single". Sounds like that person needs a hug.