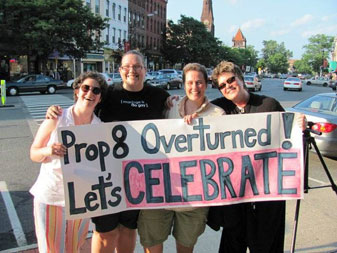 (From left: Princess Queerpants, Ericka Soto, transgender activist Trystan Dean, & Rev. Tinker Donnelly. Photo by Adam Cohen.)
Northampton yesterday celebrated the overturning of California's gay marriage ban at a rally organized by Gary Lapon from the W. Mass. chapter of Equality Across America. Joyful, tearful speeches marked how far we've come, yet also reminded us not to forget other ongoing civil rights battles, for GLBT folks and others. It can be hard for an embattled minority to avoid tunnel vision, focusing on one's own struggles without making the leap to the broader realization that everyone is affected when anyone is oppressed. I always appreciate how Gary, a socialist, connects the dots between issues like gay marriage and employment discrimination, transgender issues, racism, and immigrants' rights.
Enjoy this half-hour video, recorded by Adam Cohen. Speakers include Gary, Trystan, Tinker, Michael Fiorentino, Kate Losey, Ben Taylor, and yours truly (around the 27-minute mark).