Known as the lesbian capital of the universe, Northampton is also home to a sizeable and politically active transgender community. Last weekend, we hosted the third annual New England Transgender Pride march and rally. The event was semi-officially named "Northampton Trans Pride" (there was a last-minute change of sponsors) but was designed to be a community gathering for transpeople across the region. See coverage on p.8 of the Sept. 16, 2010 issue of The Rainbow Times .
A complete video of the march and 2-hour rally on the steps of City Hall, recorded by Adam Cohen, can be viewed on our North Street Neighborhood Association blog. Among the highlights: FTM trans elder and activist Bet Power, curator of the Sexual Minorities Archive, gave an impassioned speech calling for an end to transpeople's status as third-class citizens. To commemorate the 9th anniversary of the Sept. 11 terrorist attacks, 2010 Miss Trans New England beauty queen Toni Olin-Mignosa gave a sweet and reverent performance of the Star-Spangled Banner. In the crisp early-fall sunshine (so disturbingly reminiscent of that day in 2001), with the flag waving above her, the song was a quietly powerful statement that transpeople were claiming the ground of full inclusion in America.
Here are just a few of the hundreds of photos we took. Pictures of the march are mine, those of the rally are Adam's.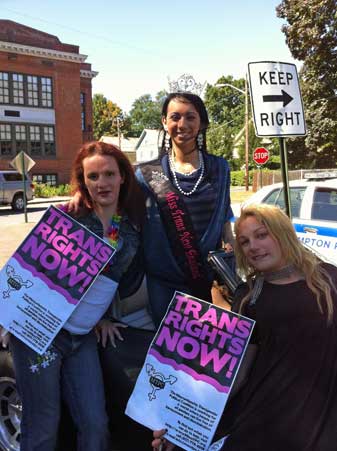 2010 Miss Trans New England pageant winner Toni Olin-Mignosa (center) and fellow contestants Jasmina Andino (L), an activist for HIV+ and homeless youth, and Faye Coon (R), a spoken-word artist.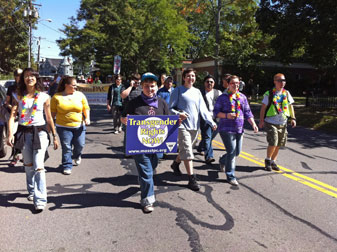 Representing the Massachusetts Transgender Political Coalition.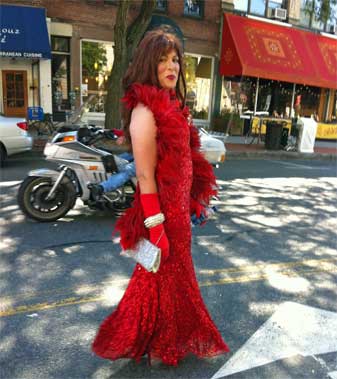 Pageant contestant Ava Cordero, who did a quick change into an equally fab outfit for the rally.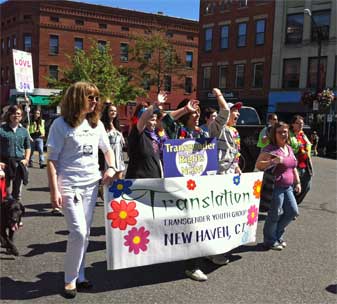 Translation, a transgender youth group. Check out the proud mom at left: "I love my trans son".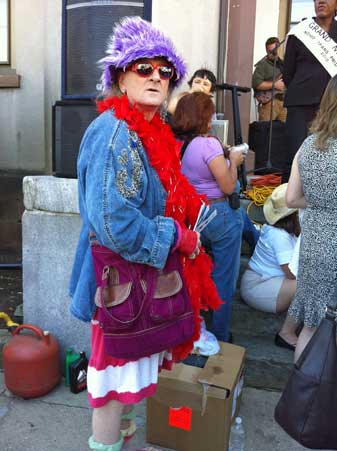 "When I am an old woman, I shall wear purple…"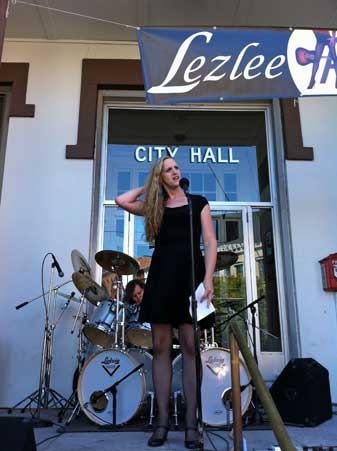 Our charismatic emcee and last year's pageant queen, Lorelei Erisis.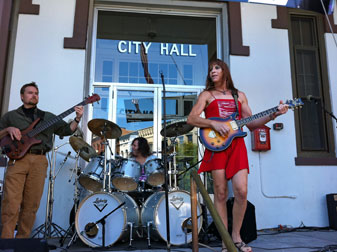 Hard-rockin' LezleeAnne Rios and her band. She won the People's Choice Award at the pageant.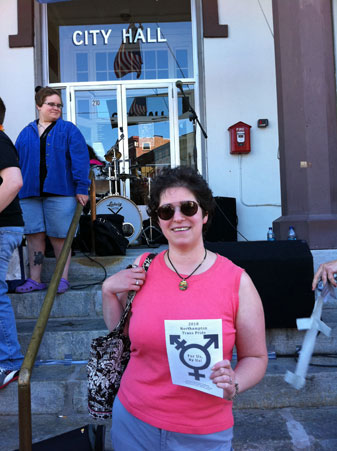 The obligatory photo of me in sunglasses. At left, the golden-voiced Arjuna Greist, a "folk n' word" artist whose rendition of "O Tranny Boy" had us in stitches.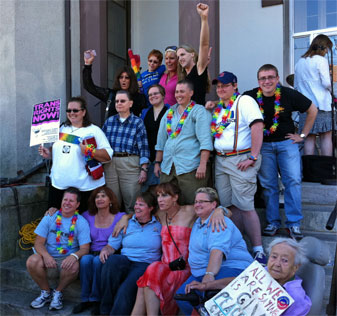 The event organizers. And a little old lady for peace!