"I do not intend to be inconsolable, but I do not intend to be deceived." –Leon Wieseltier
Biggest Accomplishments
I now own over 75 Barbies.
It's been a good year for the writing, too — 30 poems in 30 days, and several hundred pages of my novel and spun-off short stories. Thanks to everyone who has helped me take my career to the next level in 2010:
Massachusetts Cultural Council, 2010 Fellowship in Poetry
The Iowa Review Awards, 2nd Prize for Fiction
Stories published in the Bridport Prize Anthology and The Adirondack Review
My new poetry chapbook Barbie at 50 was published by Cervena Barva Press: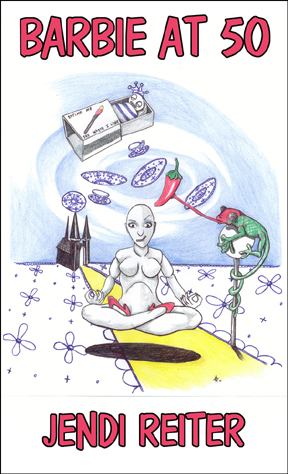 Best Books Read in 2010:
*Charles W. Pratt, From the Box Marked Some Are Missing: New & Selected Poems (Hobblebush Books, 2010)
Fans of Richard Wilbur will love this beautiful and wise collection by a former English professor who farms an apple orchard in New Hampshire. Read a sample poem here.
*Wesley Stace, Misfortune
A comic melodrama in the Dickensian vein, this picturesque saga of 19th-century England concerns a foundling boy, raised as a girl by an eccentric lord, who must discover his true identity in order to save the family estate from greedy relatives.
*Wayne A. Meeks, Christ is the Question
Renowned New Testament scholar calls us to go beyond the liberals' reductionist "historical Jesus" and the conservatives' ahistorical literalism, to find out who Jesus is for us today. Christ's identity, like ours, is dynamic and defined by relationship to others, not a fixed nugget of truth we must unearth from the past.
Big Gay News:
Federal trial courts rule that California's same-sex marriage ban, Prop 8, and the federal Defense of Marriage Act are unconstitutional!
"Don't Ask, Don't Tell" ban on openly gay soldiers is repealed!
Favorite Blog Posts:
The Biblical Problem of the Prostitute
I used to believe that Christians could affirm monogamous same-sex relationships without rethinking our other theological commitments. It is possible, but now I question whether it's such a desirable goal. That is to say, are we merely interested in bringing one more group into the circle of respectability? Or does Jesus want us to identify with others who are marginalized as our families once were, and settle for nothing less than a radical theology that includes everyone?
Campus Extracurricular Groups Claim "Religious Freedom" to Discriminate
Non-affirming conservative Christians may well be an oppressed minority on college campuses, but they are the oppressive majority in the rest of America. This is not to say that two wrongs make a right. It's just important to remember the wider context. CLS presumably wants its members to use their legal skills to block full civil equality for GLBT people when they graduate. Their gathering is not just about personal self-expression.
(See follow-up post here, too.)
Straight Women, Gay Romance: Bridging the Gender Gap?
I feel a little sad that traditional male-female divisions persist even in queer culture. Some editors…suggest that the difference between gay male fiction and female-written M/M is that the latter is more romantic and sentimental. Men who want lasting love, who talk openly about their emotions with and for other men–are these still mainly a female fantasy, scorned by other men regardless of sexual orientation?
Marriage Equality Versus Fertility Cult
Gay couples are parents too. The only way to tell them apart is to elevate procreative ability to a spiritual ideal. Inadvertently perhaps, this attitude wounds and discourages potential adoptive parents, reinforcing our fear that infertility is a kind of failure, an exclusion from the highest level of sacred marital union.