Your intrepid blogger turns 40 years old this coming July 13. Books have been part of my identity from the very beginning. Now that I have a baby of my own, I'm starting to re-read the children's books that I saved from my own youth, remembered as special but unopened for decades. Often I'm surprised by stories I assumed were familiar, thanks to my new adult perspective and the amnesia of time.
Then I look around my office with new eyes, re-encountering titles that were formative during my teens, 20s, and 30s. What did I see in Camille Paglia, George Steiner, Sara Teasdale, Richard Hugo, Rupert Brooke, that makes the spines of those long-unread books stand out like the faces of old friends in a yearbook, whose names you can't quite place?
In the weeks ahead, I intend to revisit some of those books and blog about what they meant to me and how I view them now. But "let's start at the very beginning…the very best place to start": with some of the books that stand out from my childhood memories. I'm passing over well-known classics like Anne of Green Gables and The Chronicles of Narnia. Though I did read these lovingly, many times over, everyone knows about them. Let's get to the weird stuff.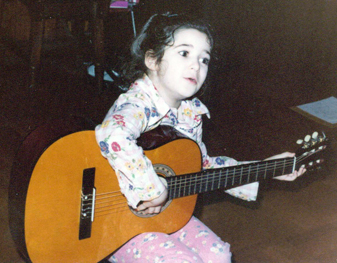 (1978, age 6: my brief experiment with playing the guitar, which I gave up because I got blisters. Still have the guitar, though. Rock it, Shane.)
Dr. Spock's Baby and Child Care
I really have no idea what's in this book, but the family legend is that I said my first word ("baby") at 6 months old while pointing to the cover photo.
Stuart Little, by E.B. White
Haven't you ever felt like a talking mouse inexplicably born to human parents? I know I have. Family legend, again, says this was the first book I read on my own, at one year old. The sad, yearning, open-ended conclusion of this tale frustrated my youthful sense of the way stories ought to work, and yet for that very reason it grabbed hold of me, compelling me to act out alternate endings with my toys.
The Doll's House, by Rumer Godden
Besides mice, my passions back then were dolls and all things British. This is another slightly dark chapter book for young readers that includes a bereavement, handled in a matter-of-fact (British?) way rather than the therapeutic gooey-ness that one might expect today. It probably resonated more with me because I lost both grandparents by the time I was 6, though I don't remember drawing that connection at the time. I named my dolls after these characters and subsequently lost one in the park…life imitates art. Wherever you are, Tottie, I hope you had a good life.
The Tale of Gockel, Hinkel and Gackeliah, by Clemens Brentano, illustrated by Maurice Sendak
A weird, intricate, fantastic story about a family and their magical rooster, who has a jewel in his throat and dies and comes to life again. I could never remember the name of this book or where it was shelved in the Jefferson Market Library children's section, which made each re-discovery a magical quest in itself. Then it vanished completely. I may have to spend the $86 on Amazon to unearth a copy of this out-of-print picture book.
Little Witch, by Anna Elizabeth Bennett
A little girl has no friends because her strict and evil mother, the witch, turns people into flowerpots when they piss her off. But who is that sweet sad woman trapped in the enchanted mirror, and can the girl set her free? A surprisingly accurate picture of my home life. Sorry. Hat tip to Harrison Solow for recognizing my description and helping me find this book again, which I read in my elementary school library.
She Was Nice to Mice, by Alexandra Elizabeth Sheedy
Mice. British. Need I say more? Before Ally Sheedy was a movie star, she was the 13-year-old published author of this quirky book that depicts the doomed romance of Queen Elizabeth I and the Earl of Essex from the perspective of the palace mice. I was inspired by her example as a young writer, but my main interest in this book was the character of Essex, with whom I fell madly in love for quite some time (a fantasy that wisely substituted for dating such men in real life; see also, Phantom of the Opera, 15 years later). My mother identified strongly with QEI — charismatic, fashionable, autocratic, voluntarily single, controversially wedded to her vocation (in her case, parenthood, not ruling England). As a result, I grew up immersed in a sort of tragic feminism: you can aspire to anything but you can't have it all. The price of power is cutting your boyfriend's head off when he gets too uppity. Talk about work-life balance.
How Babies Are Made, by Steven Schepp and Andrew Andry
I've got to hand it to my mom, she wasn't a prude. I'm grateful that I could always get age-appropriate information about the human body, without shame or awkwardness. (In later years, she would also accede to my requests for a Chinese erotic art book and a huge Latin dictionary to translate the naughty passages that for some reason were encoded in this language.) First published in 1968, this picture book accurately depicts the process of reproduction in plants, chickens, dogs, and humans, through gently colored and pleasant-looking paper-collage art. Consistent color themes highlight similar functions across species.
Heidi, by Johanna Spyri
Why did I love this book so much? Non-traditional family? Longing for wide open spaces? All I know is, my mother and I used to act out "Heidi and Clara in the wheelchair" with my kiddie rocking chair. Heidi and her little playmates in the Alps lived in an atmosphere of wholesomeness that was sometimes hard to find among the private-school children of 1970s Manhattan. Even 30+ years ago, modern kids seemed to lack the empathy, maturity, and sweetness I'd unrealistically grown to expect from my steady diet of 19th-century classics. Were kids different then, or simply not portrayed accurately?
Ant and Bee, by Angela Banner
Quaint board books from the 1940s teach kids about colors, shapes, numbers, and letters, through the somewhat surreal adventures of two insect friends. I've started reading these delightful books to Shane, though it's hard to refrain from inappropriate commentary: "Ant went for a ride on Bee's back, and then they exchanged hats, and were friends forever…and got married in Massachusetts!" Bee does look just like my high school English teacher who came out to us at the end of the semester…