Who is like the Lord our God, the one who sits enthroned on high?…He settles the childless woman in her home as a happy mother of children. (Psalm 113:5, 9)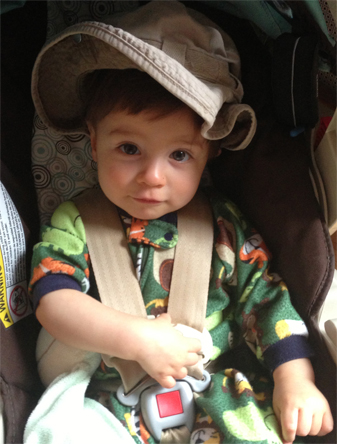 Mother's Day has always been a difficult holiday for me. Unlike Christmas or Thanksgiving, there's no larger goal to take the focus off one's personal life and the ways it conforms or fails to conform to a Hallmark card.
Because of her trauma issues, my biological mother never felt sufficiently loved or special. On Mother's Day, she was especially disappointed and confused by the contrast between how she was supposed to feel and how she actually felt. No matter what we did, it wasn't enough. Now that she and my other mom are apart, her ex-partner has had space to grow into the mother I need, no longer forced into the shadows. But it's been a long time coming.
Many infertile and waiting adoptive moms can relate to the loneliness of those years when Mother's Day came around again and we still didn't have our child. We belonged to an unseen minority who couldn't help but recognize the complexity of this thing we call "motherhood", so oversimplified by the sentimental mainstream. Birthmothers, too, may wonder what this day should mean to them. There are no words for loss in the language of this holiday, just pink flowers and brunch and cards that say "you're the bestest".
Last year, on my first Mother's Day as a mom, I was depressed, and ashamed of it. I loved my one-month-old son. I was so proud to sit in the "parents with small children" pew in church for the first time ever. But the pain of our adoption journey hadn't healed. I felt pressured by the rhetoric of motherhood to pretend that everything was hearts-and-flowers, that this moment made all the past betrayals worthwhile.
It didn't help that it coincided with the date when our birthmother's consent became irrevocable. Now it's REAL. Help me, mommy! I called her up to give her good wishes and support. Her confidence in me, her comfort with her decision, made me believe I really deserved to celebrate, at last.
Just as I push back against aggressive projections of masculinity onto my 13-month-old (I swear, he comes by that cowboy swagger naturally), I continue to deconstruct the false choices inherent in popular ideas of motherhood. Adulthood and sacrifice versus immaturity and freedom. Being ridiculed for hypervigilance yet blamed for anything that goes wrong with one's child. Mothering, as opposed to generic "parenting", is by definition a female activity. And we all know what fun it is to be female in our society. Maybe that's one reason I was so afraid of it.
Therefore, mothering, for me, is also an invitation to lean into the political responsibility that goes along with adulthood. This passage from the "Motherhood and Daughterhood" chapter of Adrienne Rich's Of Woman Born spoke to me during those early days of transformation into Shane's Mom:
The "unchilded" woman, if such a term makes any sense, is still affected by centuries-long attitudes–on the part of both women and men–towards the birthing, child-rearing function of women. Any woman who believes that the institution of motherhood has nothing to do with her is closing her eyes to crucial aspects of her situation.

Many of the great mothers have not been biological. The novel Jane Eyre…can be read as a woman-pilgrim's progres along a path of classic female temptation, in which the motherless Jane time after time finds women who protect, solace, teach, challenge, and nurture her in self-respect. For centuries, daughters have beem strengthened and energized by nonbiological mothers, who have combined a care for the practical values of survival with an incitement toward further horizons, a compassion for vulnerability with an insistence on our buried strengths. It is precisely this that has allowed us to survive…

We are, none of us, "either" mothers or daughters; to our amazement, confusion, and greater complexity, we are both. Women, mothers or not, who feel committed to other women, are increasingly giving each other a quality of caring filled with the diffuse kinds of identification that exist between actual mothers and daughters. Into the mere notion of "mothering" we may carry, as daughters, negative echoes of our own mothers' martyrdom, the burden of their valiant, necessarily limited efforts on our behalf, the confusion of their double messages. But it is a timidity of the imagination which urges that we can be "daughters"–therefore free spirits–rather than "mothers"–defined as eternal givers. Mothering and nonmothering have been such charged concepts for us, precisely because whichever we did has been turned against us.

To accept and integrate and strengthen both the mother and the daughter in ourselves is no easy matter, because patriarchal attitudes have encouraged us to split, to polarize, these images, and to project all unwanted guilt, anger, shame, power, freedom, onto the "other" woman. But any radical vision of sisterhood demands that we reintegrate them. (pgs. 252-53)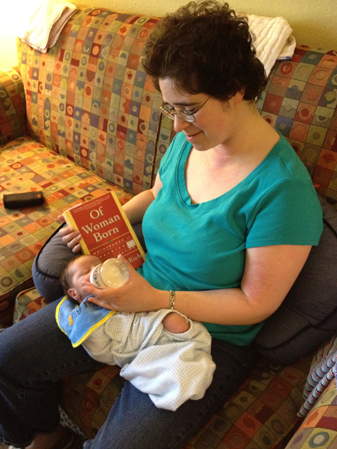 My little pea pod and me in April 2012.