Earlier this month we held a ceremony at our house to welcome our 18-month-old, Shane, into my husband's Buddhist meditation community. We shared some spiritual readings and poetry that celebrated young children's ability to abide in the present moment, without pretensions or superimposed storylines.
I was reminded of this when I read Lawrence Kessenich's poem below, which won the 2012 Spirit First Meditation Poetry Contest. Sponsored by a meditation center in Washington, DC, this free contest awards prizes up to $175 for poems on the theme of meditation, mindfulness, stillness, or silence. The current contest is open through January 31.
Like the dog in the poem, the Young Master is very fond of his stuffed squirrel, but he is especially delighted with the singing bowl we bought him for the ceremony. Each morning he reaches for it with a smile, and we have a mindfulness moment as we listen to the ringing echoes fade away. And then he bangs on it and chews on the stick!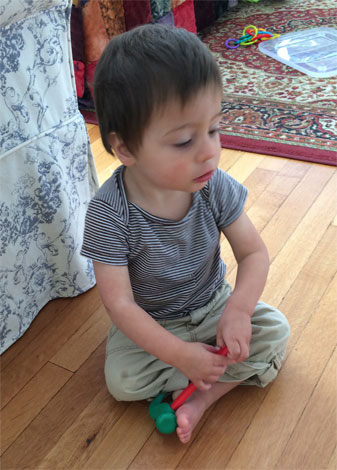 Meditating with a Dog Named Vasana*
by Lawrence Kessenich
The mind is not easily ignored.
Told to sit in the corner like
a good little dog, he disobeys
bringing thoughts like toys:
a green rubber block, a stuffed squirrel,
an old, slimy, gnawed-over bone.
Take this simple mantra, I tell him,
and play with that. But he wants to do more.
He barks, licks my face, sniffs my crotch,
drops a brightly colored ball at my feet.
Vasana! I say sharply.
But to no avail. He is my dog
and requires my attention.
I toss his ball across the room
again and again and again.
He brings it back to me
again and again and again.
Until, finally, he drops it,
lays down in his corner, and falls asleep,
dreaming of sticks thrown into rivers.
Good dog, Vasana. Good dog.
*Sanskrit word for concept "monkey mind"
Lawrence Kessenich is an accomplished poet living in Massachusetts—he won the 2010 Strokestown International Poetry Prize, and his poetry has been published in Atlanta Review, Poetry Ireland Review, Cream City Review, Ibbetson Street, and many other magazines. His chapbook Strange News was published by Pudding House Publications in 2008. Another chapbook was a semi-finalist for the St. Lawrence Book Award and finalist for the Spire Press Chapbook Contest. His current collection, Before Whose Glory, was a semi-finalist for the Off the Grid contest. His poem "Underground Jesus" was recently nominated for a Pushcart Prize. Kessenich has also published essays, one of which was featured on NPR's This I Believe in 2010 and appears in the anthology This I Believe: On Love. His play Ronnie's Charger was produced in Colorado in 2011.