It's time once again for our annual roundup of the books, blog posts, and discoveries that made the most impact on me this year. Thanks for your loyal readership. Feel free to share your own favorite reads and revelations from 2013 in the comments. Books need not have been published in the current year.
Most Self-Esteem You Can Buy for $25: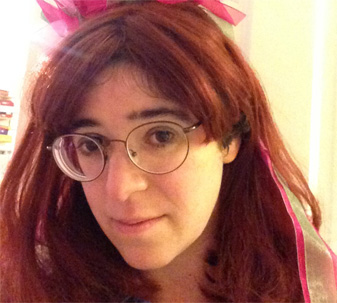 Right now, it's only a Halloween wig, but it's inspiring me to fulfill a lifelong dream. Go ginger in 2014!
Strangest Discovery at a Church Tag Sale: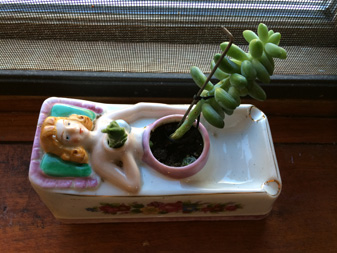 My astute husband spotted this planter at the Christmas fair at First Churches in Northampton, which was Puritan theologian Jonathan Edwards's church during the First Great Awakening. Edwards was kicked out of the pulpit eventually because he made too much fuss about teen boys reading dirty books. One can only imagine how he'd feel about this porcelain beauty, who has succulents growing out of her pelvis and right breast. My friends who remember pre-feminist kitsch have informed me that she was originally an ashtray: the matches go in the boob-hole and the cigarettes go, uh, down there. Which is even more disturbing.
Runner-up for Previous Award: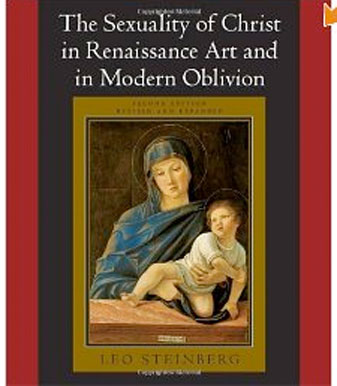 My church is nothing if not broad-minded. Thanks, St. John's Christmas Fair. I'm looking forward to learning all about the Holy Foreskin.
Best Poetry Books:
So many this year, I can't pick just one.
Natalie Diaz, When My Brother Was an Aztec (2012)
With furious beauty and Promethean boldness, Diaz rewrites our cultural myths to speak her truth as a Mojave woman, a lover, an activist, and a sister bereaved by addiction.
Minnie Bruce Pratt, Crime Against Nature (2013)
This groundbreaking book recounts how the author lost custody of her sons when she came out as a lesbian, then forged a beautifully honest relationship with them later in life. First published in 1989, it was reissued this year by A Midsummer Night's Press in collaboration with the journal Sinister Wisdom.
Read my full review and excerpt here.
Jamaal May, Hum (2013)
This electric debut collection explores what it means to be an African-American man in Detroit, finding beauty in the ruins of the machine age. Read my full review and excerpt here.
Best Novel:
Susan Stinson, Spider in a Tree (2013)
Set in Western Massachusetts in the 18th century, during the religious revival known as the First Great Awakening, this luminous novel re-creates the domestic life and spiritual development of the theologian Jonathan Edwards. Stinson allows the complexity of the Puritan worldview to speak for itself, setting Edwards's mystical delight in nature and his deep compassion alongside his severe views of God's judgment and his defense of slave-owning.
Best Nonfiction Book/Best Parenting Book:
Alice Miller, Banished Knowledge: Facing Childhood Injuries (1991)
With bracing clarity, this maverick psychoanalyst explains how all kinds of cruelty, from child abuse to genocide, has its roots in traumatic and oppressive child-rearing practices. The child had to identify with the perpetrator's perspective in order to survive, but is then at risk for revisiting this pain on the next generation. Healing comes when you finally stand on the side of the child you once were, validating her innocent needs and feelings, instead of continuing to internalize the judgments your parents projected onto you. Warning: this book may expose many of your religious beliefs as denial mechanisms…but that's a subject for another post.
Favorite Posts on the Block:
The Gorgon's Head: Mothers and "Selfishness"
I've come to believe that mothers trigger perceptions of "selfishness" in so many people, regardless of which choices the mother is making, because people are unconsciously angry about their own unmet childhood needs. Someone who had distant and unfeeling parents may view working mothers harshly, while someone who had smothering and needy parents may have a similar disdain for stay-at-home mothers.
National Child Abuse Prevention Month: Why It's Personal
I don't know how you'd put this on a flag, but my version of awareness would be more radical. It would emphasize what survivors have in common–with each other, across different kinds of abuse, and with everyone who breathes in abuse-enabling myths in the air of our culture. We may not all be in a position to identify abused children and find services for them, but we can all ask ourselves: What do I believe–about God, power, knowledge, sexuality–that contributes to the silencing and minimizing of abuse? What might I be telling myself to silence myself?
Abuse and the Limits of the Welcoming Church
Overreacting against fundamentalist divisiveness, our churches minimize genuine distinctions of culpability and power within the community we are creating. If inclusion is our only defining value, where is the conversation about accountability and transformation?
Belonging, Believing: A Tension at the Heart of Church
What happens when we have developed close personal ties to a community, but discover that we can't accept what they believe? The peer pressure to maintain those ties can distort or suppress our search to know God's will for ourselves.
And finally, the most important award of them all…
World's Best Toddler: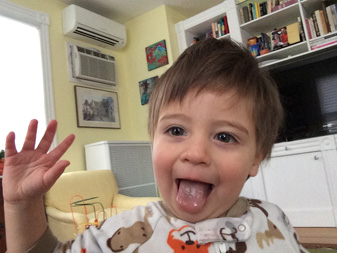 Happy New Year from Shane!