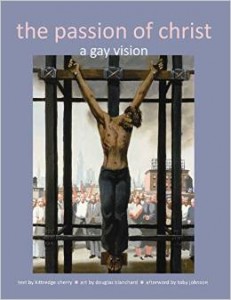 In Holy Week, which begins next weekend with Palm Sunday, Christians all over the world meditate on Jesus's suffering and death. Catholics and some Episcopalians enact the liturgical drama of the Stations of the Cross, depicting the events leading up to the crucifixion. There are many ways to find ourselves in this story, a large cast of characters with whom to identify, both guilty and innocent. And sadly, there are many LGBT people who feel crucified by the church itself, cast out and forbidden to imagine a Christ who is for them and of them.
Douglas Blanchard's 24-painting series "The Passion of Christ: A Gay Vision" stretches loving arms across this divide. A new book by Kittredge Cherry (Apocryphile Press, 2014) brings these images together in book form for the first time. Cherry, who curates the Jesus in Love blog about LGBT spirituality and the arts, here gives invaluable in-depth commentary on the paintings' inspiration and their place in art history. Each chapter includes a prayer to say while contemplating the image, like a Stations of the Cross liturgy. Toby Johnson, formerly of Lethe Press and White Crane Review, closes the book with reflections on new directions in gay spirituality.
This suite of paintings is radical by virtue of its traditionalism. Inspired by 15th-century master Albrecht Dürer's woodcuts of the Passion, and visually quoting famous works such as the Isenheim Altarpiece, these paintings boldly situate themselves in the mainstream of Christian iconography. At the same time, Blanchard transforms the meaning of those scenes by placing them in contemporary urban settings that include LGBT characters. The Jesus figure, a clean-shaven, simply dressed, handsome young man, could be (but does not have to be) read as gay. There is no doubt, though, that his followers include people of diverse sexualities, gender identities, ethnicities, and class backgrounds, while the crowds attacking him bear close resemblance to the hellfire-spouting protesters on the fringes of Pride marches.
I found this book very helpful for my own prayer life. I would love to have a stronger heart-level connection with the person of Jesus, but often struggle to connect with the ubiquitous beard-and-bathrobe representation of the Savior, which feels cliché and remote from my experience. I felt a stronger bond with Blanchard's Jesus, who could be a divinized version of my imaginary gay best friend/novel protagonist, or simply a safe male friend and ally to my queer family. I also loved the depiction of the Holy Spirit as a female angel.
Whether or not I picture Jesus as the man in these paintings, this book gave me permission to imagine "my own personal Jesus" in the way that speaks to my soul. What makes him Christ is not his gender, his archaic clothing, or the straightness and whiteness that Western orthodoxy has attributed to him, but his works of love: speaking truth to power, creating community for outcasts, laying down his life for his friends. By that measure, the Jesus in this book is the real deal.
Get your copy here!
Watch the video "Introduction to the Queer Christ" at the Jesus in Love blog. It includes a selection from Blanchard's "Passion" and other artists featured in Cherry's book Art That Dares: Gay Jesus, Woman Christ, and More.