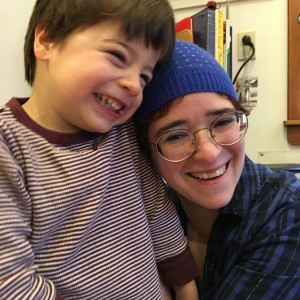 The Young Master, at age 3.75, is wild about robots and trains. Three times a day, he demands that I read him Robots, Robots Everywhere, a Little Golden Book about our transhumanist future. He has also discovered the Little Golden Books Classics set that someone gave us at his baby shower. Not a day goes by without us re-reading at least some pages of Tootle and Scuffy the Tugboat, both written in the 1940s by Gertrude Crampton and illustrated by Tibor Gergely.
It's curious how some books acquire classic status, re-purchased by generations of parents and well-wishers, perhaps without much thought about the meaning of the story. Gergely's charming artwork epitomizes mid-20th-century picture book design: the optimistic fascination with industrial machinery, somehow peacefully coexisting with lush pastoral scenes, the made and the built environments equally full of wonder and personal detail. Tootle and his classmates at the Lower Trainswitch School for Locomotives are cuddly, expressive precursors of the colder computer-generated animation of Thomas the Tank Engine. Scuffy conveys a world of emotion with just eyes, eyebrows, and the tilt of his smokestack. These books are selling nostalgia for an era when America was an industrial powerhouse and no one had heard of global warming or acid rain.
However, both tales hammer home a repressive message about staying in your assigned social role and doing what you're told. They remind me of Hans Christian Andersen fairy tales, like "The Fir-Tree" and "The Little Mermaid", where a young dreamer is violently punished for aspiring to a different life. Scuffy, a toy boat, thinks he was "made for better things" than sailing in a child's bathtub, so he floats away on the brook, down a large river, and is almost lost at sea before his owner coincidentally rescues him. His adventures, though sometimes scary, look thrilling, so it's very disappointing to me that the story ends with him saying that the bathtub is where a tugboat belongs. He's also as insufferable at the end as the beginning, bragging that he knows his place, with exactly the same tone and words that he used to describe his destiny as an explorer. Self-awareness is apparently not as important in this vision of child-rearing. Resist the hegemonic narrative, Scuffy!
Tootle fares even worse. He's like the anti-Ferdinand the Bull. His story is, for me, an example of what's wrong with traditional education and discipline practices, as well as a metaphor for how trauma hampers the inner child's creativity. That's a lot for one little engine to carry, I know, but bear with me.
Bill, the engineer-teacher at the Lower Trainswitch School, gives the baby locomotives a long list of rules to obey, without explanation, if they want to grow up to be big important trains. Obviously, we readers can understand why "Stopping for a Red Flag Waving" and "Staying on the Rails No Matter What" are safety measures for trains. The point is that the students aren't given reasons, so they don't learn how to interpret the rules when they conflict.
Tootle is kind of…special. Not to read these words too anachronistically, but his sound is described as "a gay little tootle" and the engineers call his behavior "queer"! He loves to go fast, but obeying the rules, not so much. He keeps breaking the most important one, by secretly running off the rails to race with a beautiful black horse, frolic in the buttercups, and make echoes in a rain barrel. When the engineers figure it out, they conspire with everyone in the town to hide in Tootle's favorite meadow and wave red flags whenever he makes a move. Tootle is provoked to tears:
"Whenever I start, I have to stop. Why did I think this meadow was such a fine place? Why don't I ever see a green flag?"

Just as the tears were ready to slide out of his boiler, Tootle happened to look back over his coal car. On the tracks stood Bill, and in his hand was a big green flag. "Oh!" said Tootle.

He puffed up to Bill and stopped.

"This is the place for me," said Tootle. "There is nothing but red flags for locomotives that get off their tracks."
Indoctrination complete.
I admit, when I'm wrestling the Young Master into his four layers of outdoor clothing for a 5-minute trip to school, and he hops away with his pants around his ankles because he saw a squirrel through the glass door, I sympathize with the impulse to train a child to stay on the rails. But good parenting requires more complex discernment than following a single rule without give-and-take or context. Focus and curiosity are both valuable traits that are sometimes at odds. Maria Montessori's educational philosophy, as radical 100 years ago as it is today, was based on trusting the child to educate himself in a structured environment. The traditional method depicted in Tootle assumes that children's undirected impulses are either irrelevant or rebellious.
The line in Tootle that makes tears slide out of my boiler is "Why did I think this meadow was such a fine place?" They have frightened and shamed him into turning against his own joy. As an abuse survivor, I know what that's like. I know the disgust I feel at my own writing when some negative comment ("you can't be a Christian and write about gay sex!") sends me into a shame spiral. I know the burning embarrassment that I might have loved my characters too much, talked about that love too much, exposed myself as a weird and boring 12-year-old fangirl. Like Tootle's teachers, my mother controlled me by training me to see danger where there was none. The red flags in my meadow are very old habits of staying safe by hiding what really mattered to me. Once they were essential defenses, now they're just triggers that keep me from expressing my creative powers.
How do I handle re-reading these stories to Shane? I tell him, "Mommy doesn't like the message of this story, so Mommy is going to make up her own ending. When you're old enough to read, you can read the real thing and decide whether you agree with it." And I wait for Mallory Ortberg to take them down in her Children's Stories Made Horrific satire column. (Her version of The Runaway Bunny tells you all you need to know about my childhood.)
So run with the horses, kids. But look both ways before you cross the tracks.
Mommy says, "And then Tootle ran off to San Francisco where he could be himself! The end."