The Poet Spiel, a/k/a the artist Tom Taylor, is a writer and painter whose work is passionate, countercultural, and sardonic about the absurdities and hypocrisies of American life. I was corresponding with him this week about subscriber news for Winning Writers (read his latest prizewinning poem here) and mentioned that I still laugh when I remember this poem from his book Barely Breathing. He's kindly allowed me to reprint it below.
queers for dinner
seemed like my uptown art dealer'd never
invite me and paul to check out the hi-falutin new
six thousand square foot pad he was bragging
he'd just built on top a hill with a 360º view
of anything anybody'd ever wish to see
but then he was a republican and us being just
a couple of lowly dudes maybe he didn't want
our queer tootsies on his marble floors and i'd
pissed him off one time when i told him
he looked cute in cowboy boots
so anyway i finally asked aren't you gonna
ask us over to see yer hotshit pad?
odd, how he acted like it'd never occurred to him
well he finally phoned and wanted to know
if we had any food preferences cuz he &
his old lady'd decided to try out their flashy
new stainless-steel kitchen on us
cook up something special and said we'd be
a kind of test run for when they had
real dinner guests
well yeah, i said, if yer doin something special
we do have preferences:
we don't eat skunk & we don't eat pussy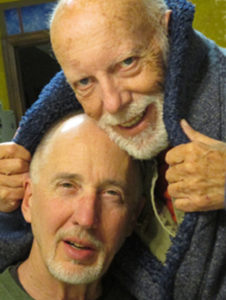 Spiel (R) and Paul, his partner of 33 years.