As the wishy-washy, late-blooming trans boi that I am, I'm always looking to retcon my queerness to bolster my self-belief. Remember that time I cried at "The Student Prince"? Yeah, that totally predicted that one day I would wear a lot of leather vests.
Intense crushes on swashbuckling, flamboyant, imaginary men were a defining feature of my childhood. Decades before teen girls aligned themselves as Team Edward or Team Jacob, I was dramatically undecided between Gene Kelly's D'Artagnan and Errol Flynn's Earl of Essex.
Transition goals.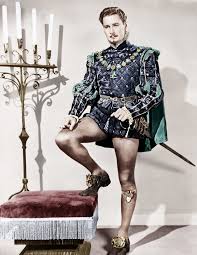 Get you a man who can rock these Renaissance booty shorts.
So I was delighted by Sylas K. Barrett's recent piece for fantasy fiction press Tor.com on "Queer Heroism in Alexandre Dumas' The Three Musketeers". Without insisting this is the only or intended interpretation of the famous tale of male bonding, Barrett revisits the text to discover appealing transmasculine and gay role models in Athos, Porthos, Aramis, and their headstrong young friend from Gascony.
As a result, it's easy for a reader to sort of slip into the role of d'Artagnan; he's a blank-slate hero for you to graft onto yourself. As someone who was assigned female at birth, I found particular freedom in imaging myself as d'Artagnan, because I could never let my emotions fly the way he does, and act as rashly he does. Not only does d'Artagnan get away with all his daring, impulsive moves, he always ends up doing something amazing, and getting praised for it…

I wanted to be recognized as a boy, to be mentored by the male teachers I looked up to. I never had that belonging in my real life, but through d'Artagnan, I had a way to imagine that I did, a young man living fearlessly in a world of men, striding through life and swinging my, erm, sword around at anyone who dared look at me sideways.

D'Artagnan has a ridiculous amount of personal and professional success, starting the book as an unemployed nobody and ending it as lieutenant in the Musketeers. But more than that, he finds male companions who accept him, support him, and laud him as the best of all of them. He had friends, and very manly ones at that.
Comments below the article were contentious, though respectful. Of special interest was this comment about the story's glamorous villainess, Milady de Winter (memorably played by Lana Turner in the 1948 film):
From the Wikipedia entry on Milady de Winter:  "In the introduction to his 1952 English translation of The Three Musketeers, Lord Sudley posits the following:

'The fleur-de-lis on Milady's shoulder with which she was branded for having committed a felony in her extreme youth would certainly come as a shock to anyone discovering it, but it does not fully account for the terror and horror which she evoked in every man who had ever known her intimately. Only her husbands (she had two) and her lovers find out her 'secret,' and for that, she declares, they must die. And why was the Cardinal, who employed her as his chief secret agent, who had spies all over the country and who knew everything about everyone of importance in France, himself unaware of her criminal record? At the end of the story, d'Artagnan discloses this to [Richelieu], who then declares that he and his friends were perfectly justified in taking the law into their own hands and beheading her. Might not Dumas, in creating such a character, have intended to convey that Milady had that particular form of physical malformation which was regarded even in the sixteenth and seventeenth centuries as a terrifying token of divine displeasure, punishable by death – a malformation of which the fleur-de-lis was merely a symbol?'

"Sudley goes on to suggest that Dumas might have found inspiration for Milady from the Chevalier d'Éon, a transgender spy who acted as Louis XV's secret envoy to Russia and England. D'Éon spent half of his life as a man and half as a woman, and was accused of actual physical hermaphroditism during their lifetime."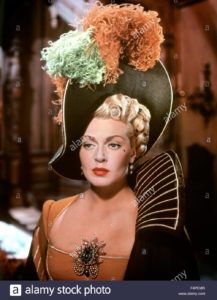 "The category is… Live! Work! POSE!"
Meanwhile, queers with more modern tastes continue to mine Disney films for subtextual representation, while the company teases us with storylines and symbols that fall short of genuine equality. Looking on the bright side nonetheless, my old college classmate, poet and critic Stephanie Burt, blogged at Pangyrus that "Frozen 2 Is Even More Trans Than the First One". For Burt, the original movie was:
…a film about growing up different, playing with girls–or with one girl in particular–until you realize that your difference could hurt them, and then isolating yourself till you ache (the song alluding to this is "Do You Want to Build a Snowman?").  It's a movie about the strenuous, artificial, beautiful visual worlds made by trans girls, first in our heads and then where other people might see them; it's a movie about trans girls' fears that we could make monsters, or become monsters, if we reveal who we are. As every parent who has seen a kid shocked at Prince Hans's heel turn might attest, it's a movie about how heterosexual, cisgender, romantic, monogamous love, the kind that leads to marriage, cannot be the only kind. It's a movie where trans girls may see that once we come out—if we learn not to lash out, but to reach out—we might renew the love and friendship we need…

Frozen 2 is about finding trans and queer community: it shows what happens after you come out, if your life and work as you knew them aren't enough.  How did I get to be the way I am? How can I find others like me? Why do I feel like they—we—must exist, even though I haven't seen them yet, as if I were hearing a voice nobody else heard?
On a more serious note, Diana Tourjée writes in Vice that "Straight Men Are Part of the Trans Community" because they regularly have sexual and romantic relationships with trans women–yet often refuse to acknowledge them openly as partners. Tourjée wants to break the silence and stigma around loving trans women, an internalized queerphobia that can fuel their male partners' violence against them. She argues that it's time for these men to adopt the trans community's struggles as their problem too.
I'm reminded of the storyline about Harlem sex worker Angel and her white yuppie lover in the first season of the TV series "Pose". He does seem to love her, in his immature and privilege-blind way, yet he can only imagine expressing it by "rescuing" her from a community populated by women like herself. But Angel comes to see that her coveted "realness" is not conferred by a Cinderella happy ending, but already present in her sisterhood.
Julian K. Jarboe's new story "Self Care" in Nat. Brut is a wickedly funny and sad tale of queer solidarity and rage, set in a plausible near-future dystopia where "'some' neighborhoods get sunk forever as an 'unfortunate side effect of coastal flooding' while others become the sexy hip cool new 'seafloor village'." Our trans sex worker hero fights to survive while dodging an unctuous priest, a therapy group where "everyone talked like they'd invented feelings", and flammable polluted raindrops. Find more of Jarboe's award-winning work on their website.