Hey! It's a month! Which one? Who cares! Time for some links.
Kittredge Cherry's QSpirit website covers LGBTQ spirituality and art. Last month she profiled 18th-century utilitarian philosopher Jeremy Bentham, whose writings on same-sex love were published for the first time in 2013. Bentham anticipated several contemporary theological defenses of homosexuality, such as the observation that Jesus said nothing to condemn it. Bentham contrasted Paul's asceticism to Jesus' celebration of earthly life. He even speculated that Christ himself had gay sex. As his culture lacked a non-pejorative term, he phrased it thus: "The eccentric pleasures of the bed, whether partaken of by Jesus?" Charming phrasing–as one might expect from a gentleman who had a "sacred teapot" named Dicky.
In one of his public posts at the Shatner Chatner, his subscription newsletter, Daniel Lavery shared an excerpt from his memoir/essay collection Something That May Shock and Discredit You (Atria Books, 2020) that was particularly meaningful to me when I read the book this winter. Titled "Is Flesh a Problem or an Opportunity in the Eyes of God?", the piece unpacks the assumptions behind an objection that trans people often hear:
Oddly, the same phrase came up over and over, although I don't think many of these friends had spoken to one another about it: Something irreversible. As in, I'm afraid these kids are going to do something irreversible. But just what that thing was, and what irreversibility looked like outside of the usual irreversibility of time and momentum, I couldn't have told you, because they were never quite able to explain it to me. "Something irreversible" is to polite people what "self-mutilation" is to impolite people: a quick way to reorient the conversation around their own discomfort with bodies. In both cases it becomes difficult, if not impossible, to have a productive discussion with someone struggling with a reflexive, implicit horror of flesh. Any mention of someone else's transitioning body sends them into direct and panicked conflict with the prospect of their own transitioning body; since this is a prospect they find unbearable, it becomes immediately necessary for them to unload their own desire and disgust onto the nearest suitable target.
Like me, Daniel didn't see obvious clues to his transition in his childhood. His story didn't fit into the "I always knew" narrative that mainstream discourse pressures us to tell, to persuade skeptics that our transition is more than misguided trend-following or acting-out of some other psychological problem. But his evangelical upbringing gave him another framework, the conversion or resurrection story, within which an unexpected transformation can be holy. Citing 1 Corinthians 15:
The answer, then, for Paul, is the body-that-is exists always in anticipation of and conversation with the body-that-will-be, that all flesh is not the same flesh but that bodies please God, that death is always followed by growth, that there are many different types of glory, that dishonor may be followed by redemption, that all things spiritual originate in the goodness of the flesh, that our bodies might come to reflect both where we have been and where we are going.
Something That May Shock and Discredit You was published under his previous name, Daniel Mallory Ortberg. Daniel cut ties with his family and took his wife's last name earlier this year, when he was unable to persuade his father, megachurch pastor John Ortberg Jr., to remove a youth ministry volunteer who'd confessed to sexual attraction to children. When the church continued to cover up the situation, Daniel and his wife Grace Lavery made the difficult decision to name the volunteer publicly as his brother, John Ortberg III, in hopes that the latter would get professional help. Bob Smietana's July 6 article at Religion News has a good summary of the saga. Grace's Twitter timeline has a comprehensive thread documenting the church's stonewalling and misinformation campaign. Kate Harding's essay "Why Am I So Furious About This?" connects the scandal to our national climate of gaslighting and shoot-the-messenger. I greatly admire the Laverys' commitment to protecting children; many people don't have the guts to face their loved ones' abusive tendencies and set loving boundaries.
In the socialist magazine Current Affairs, Brianna Rennix examines "The Peculiarity of Gender", a topic that attracts a fair share of trolls across the political spectrum. Those on the Right may lean on concepts of biological essentialism or natural law, while from the Left, one may hear that gender is a socially constructed illusion. It's not as simple as either one. The superficially liberal position calls into question why anyone "needs" to transition, at all. Are we just mistaking a social problem (restrictive gender roles) for a medical one? Rennix's critique:
Now, one counterargument I could make is that some trans people experience deep psychological anguish because they are inhabiting a body and an identity that doesn't feel like their own, and that this anguish, whatever its source, is the impetus for transition, and it's the reason why continuing to publicly identify as the gender they were assigned at birth is not an option. This is the whole idea behind "gender dysphoria," the official DSM classification…

…But I don't think that emphasizing dysphoria is necessarily (always) the best way to respond to the question of why transitioning still matters even if gender is a construct. Characterizing being trans as a medical condition is politically useful in some respects: even though it makes it easier for people like Ben Shapiro to claim that being trans is a form of mental illness, it gives a comfortably "scientific" reason for why someone's gender expression should be socially tolerated and why they should have access to whatever surgical and hormonal interventions they might need or want. But not all people who identify as trans experience dysphoria, or at least, don't experience it in the same way. People relate to their bodies and identities in a multitude of ways that the standard narratives around dysphoria may tend to flatten. Making the distressing experience of "dysphoria" the threshold necessity for transition doesn't always make things easier for all trans people, as they try to gauge whether their desire to alter their pronouns or their appearance or their bodies is "really" gender dysphoria, or whether they are miserable enough to be "really" dysphoric. Additionally, a number of trans people have written about the experience of transitioning as something that has, whether in the long or short term, increased their sense of mental distress or wrong-bodiedness, rather than lessening it. This is psychologically understandable, as pursuing something very important to you in the face of great obstacles is an emotional experience that everyone is bound to process differently, but it doesn't fit into the narrative that transition is a "cure" for dysphoria and thus gives grist to the mills of badly-intentioned people who want to say that transitioning is inherently a form of self-harm…

…For me, the only reasonable way to think about gender identity is as a desire: a desire which may feel like an unavoidable imperative to some people, and maybe a conscious choice or settled preference for others; but ultimately, what matters is what gender you want to be. The existence of gender as a concept is important to our physical, sexual, and social lives—we do, after all, live in a society—and because of this, we all have to orient our sense of self around it to some extent, whether we like it or not. If you want to transition, it shouldn't matter whether you have the right kind of backstory or personal history, or the correct diagnosis, or whether you have a perfectly worked-out theory of gender that neatly aligns with and endorses your wishes. On the left, I think, we should have the general principle that people should be able to do whatever they desire, as long as it doesn't involve immiserating and disempowering others for personal gain.
It's a long article but worth reading closely if this is a topic that you ruminate about. I always find it refreshing when a writer acknowledges the complex feelings we may have about our genders before, during, and after (is there ever really an "after"?) transition. At present, I have big boobs, chest hair, a five o'clock shadow, and Lea DeLaria's hairdo, and I find myself fretting, "How many more shots in the butt can I take before I turn into Hale Appleman?"
For turning body horror into body ha-ha, I recommend The Family Sarnath, Jason Reuter's satire comics that re-caption Bil Keane's drawings for the saccharine comic strip "The Family Circus" with H.P. Lovecraft quotes and storylines. Their Facebook page explains: "Our mission at Family Sarnath is two-fold: Make Family Circus funny and raise awareness to the growing threat of the Old Ones." (Hat tip to poet Michael McKeown Bondhus for the link.)
Finally, for another good laugh, enjoy this three-minute YouTube video skewering gender reveal parties: "Gender according to the Cis, based on their cakes".
Stay tuned for another post with more unrelated links!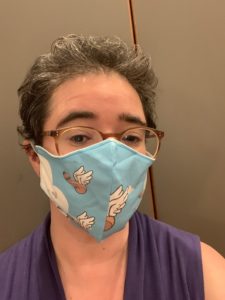 Wear protection!