It's March! Spring is coming and links are a-blooming.
It was reported this morning that Dr. Seuss Enterprises, the business that manages the author's intellectual property, would cease reprinting six of his picture books because of racist illustrations. The best-known of these titles were On Beyond Zebra, To Think That I Saw It on Mulberry Street, and If I Ran the Zoo. The AP news article explains:
In "And to Think That I Saw It on Mulberry Street," an Asian person is portrayed wearing a conical hat, holding chopsticks, and eating from a bowl. "If I Ran the Zoo" includes a drawing of two bare-footed African men wearing what appear to be grass skirts with their hair tied above their heads.
I'm not sure what to think about this decision. A fair number of the classic picture books I've read to the Young Master contain incidental images that are offensive. For instance, Syd Hoff's Danny and the Dinosaur (1958) and Mercer Mayer's Just Me and My Mom (1977) show natural history museum mannequins in Native American garb, and I'm sure many other books show white kids dressing up in feathered headdresses, because that was considered a normal costume. When I read these books aloud (many, many times), I would revise the text to say "Danny saw artifacts stolen from Native peoples" or some such, but that likely went over my son's head. So I understand the impulse to withhold these types of images altogether from children who are too young to consider them critically.
On the other hand, I wonder whether editing the past also perpetuates racism, by giving children the false impression that literature has always been morally pure–or ever can be. Surely today's books have other flaws that we haven't yet recognized. Are we setting kids up to be defensive about their future problematic faves, instead of teaching them from an early age to tolerate moral ambiguity? Every now and then, a well-meaning school bans Huckleberry Finn because it contains the N-word, but it seems more productive to study how an anti-slavery work by a white author can still contain racist stereotypes.
A more clear-cut example of bad educational decisions comes to us from Utah, where trans author Kyle Lukoff's picture book Call Me Max led to the banning of an entire curriculum that didn't even include his book. The Salt Lake Tribune reports:
A Murray [School District] teacher read a book about a transgender child to a class of third graders last month — which set off a backlash from parents. In response, the school district has now suspended a program aimed at introducing kids to more diverse and inclusive literature.

The uproar started when a student at Horizon Elementary brought a copy of "Call Me Max" from home and asked the teacher to read it aloud during story time. The book is an illustrated account of a young transgender boy who educates his own teacher and classmates about his identity…

…Murray School District will also be suspending its Diversity Equity Council, which worked on the equity book bundles, to examine the mission and work of the group. It was formed in 2019 to address issues of employee equity and complaints of mistreatment.

It was expanded this summer — in respond to nationwide protests after the death of George Floyd, a Black man killed by police in Minneapolis — to also include reports from students on their experiences.
For the record, Shane and I enjoyed this picture book very much! Lukoff presented Max and the Talent Show and When Aidan Became a Brother at an online story hour at the BGSQD Bookstore last month and I cried all the way through. Contrary to what the guys on my trans masc Facebook group report, I'm just as weepy as I've always been. Must be my Cancer Sun.
I can't imagine what it would've been like to grow up knowing that trans men existed. But it's never too late to come out. Hasbro's Mr. Potato Head, who premiered in 1952, is going gender-neutral. Bloomberg.com has the mashed-potato scoop:
Starting in the fall, Hasbro will sell Potato Head family kits. They'll come with two non-gendered "adult" potatoes, one "baby" potato and 42 accessories, according to a spokeswoman. That will let kids decide the parents' gender, rather than being told they are "Mr." and "Mrs."
I haven't been this vain since I was 10 years old. I found a dozen old photo albums in the basement last year and I was like, "Wow, I was actually pretty cute my whole life but I looked very uncomfortable being alive." Whereas now I will use any excuse to post a picture of myself in suspenders. A.E. Osworth explains why, in this September 2020 article at Catapult: "Taking Thirst Traps to Preserve Myself–and My Transition–in the Middle of the Pandemic".
In the absence of my meatspace body living in the minds of my people, am I preserving this slice of time to be accessed later? Am I imbuing my early-testosterone body with immortality, marking its existence? Since when did I want my body at all, let alone to make it last for human eternity?

"It feels like a protest against this idea that it's polite to not find yourself attractive," my friend A. Andrews says to me over Zoom when I ask them about thirst trapping. A is a writer and a comic artist. They think about the arrival of bodies in digital space quite a lot, usually because they are drawing bodies into existence. A falls into category two—less thirst trapping, more existential crises. But they talk to me about it anyway.

"It's considered rude or self-involved to think you're hot," A says. "This idea that we have to kind of think of ourselves as objectively neutral or below is weird. Thirst traps are a protest against this notion that we should all feel kind of medium about ourselves."

I consider my adherence to a politeness written upon the hearts of girl-children, the over-emphasis of humble-as-virtue. It is an insurance that anyone with any relationship to girlhood, regardless of gender or outcome, will feel squeamish taking up a reasonable amount of space. Will disparage their own body until they feel less than they are: stunning. Everyone is stunning and I really believe that; everyone, of course, except for me.

Fuck that. I would rather be the Halloween crowd, unshackle myself from the normals. Love myself just a little bit more.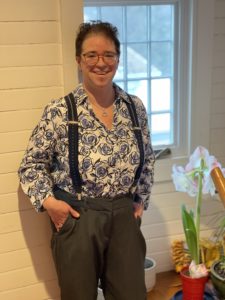 Feast your eyes on this non-gendered "adult" potato.