When my parents sold the Lower East Side apartment we'd had since 1974, I was sad that I'd never again see our familiar kitchen linoleum. We had painted the whole room bright orange and egg-yolk yellow to match it. (Like I said, it was 1974.)
Thanks to Twitter last month, I discovered that this classic brickwork pattern was called Armstrong Flooring #5352, and that it was the best-selling design of the 20th century!
The website Retro Renovation will give you the scoop on its creator, Hazel Dell Brown (1892-1982), whose influential interior design ads for Armstrong showed homemakers how to enliven spaces with bold color schemes. I imagine she would have been proud of our sunny-hued kitchen.
Something else from the 70s, which hasn't aged as well: The men of folk-singing group Peter, Paul & Mary seemed the epitome of sensitive non-toxic masculinity, so I was shocked to read that Peter Yarrow had been convicted of molesting a 14-year-old girl. #PuffToo? Apparently Yarrow was pardoned by then-President Jimmy Carter on his last day in office. Newsweek reported this past February that a lawsuit pursuant to the Child Victims Act was recently filed against Yarrow based on a 1969 incident:
Documents claim that Yarrow, now 82, met the victim a number of times before the incident took place in a Manhattan hotel room. He then "took an interest in her," acting what in what the minor thought was "paternal way," per to the filing. The lawsuit claims that the then-teenager ran away from her St. Paul, Minnesota home and met Yarrow at a Lower East Side hotel, where he allegedly raped her.
I suppose that leaves Billy Porter as one of my last remaining cis-male role models. The "Pose" star and gender-bending fashion icon came out as HIV+ last month, in an effort to end the stigma around the disease. According to the Hollywood Reporter:
In the 14 years since [his 2007 diagnosis], the Emmy-winning star of "Pose" has told next to no one, fearing marginalization and retaliation in an industry that hasn't always been kind to him. Instead, the 51-year-old, who has cultivated a fervent fan base in recent years on the basis of his talent and authenticity, says he's been using Pray Tell, his HIV-positive character on the FX series, as his proxy. "I was able to say everything that I wanted to say through a surrogate," he reveals, acknowledging that nobody involved with the show had any idea he was drawing from his own life.
In this interview on the Tamron Hall Show, Porter said something I found very relatable about the levels of trauma healing. Talking about his background as a child sexual abuse survivor, he observed that he had created a great life for himself but couldn't inhabit it in an emotionally present way. The catharsis and honesty of playing Pray Tell, plus the meditative pause of COVID lockdown, made him take his recovery to another level.
Looking for more masculine inspiration? Read "The Forgotten Trans History of the Wild West" at Atlas Obscura.
Despite a seeming absence from the historical record, people who did not conform to traditional gender norms were a part of daily life in the Old West, according to Peter Boag, a historian at Washington State University and the author of Re-Dressing America's Frontier Past. While researching a book about the gay history of Portland, Boag stumbled upon hundreds and hundreds of stories concerning people who dressed against their assigned gender…

It wasn't that this time and place was more open or accepting of trans people, but that it was more diffuse and unruly, which may have enabled more people to live according to their true identities, Boag says. "My theory is that people who were transgender in the East could read these stories that gave a kind of validation to their lives," he says. "They saw the West as a place where they could live and get jobs and carry on a life that they couldn't have in the more congested East." Consider Joseph Lobdell, born and assigned female in Albany, New York. When he surfaced in Meeker County, Minnesota, he became known as "The Slayer of Hundreds of Bears and Wild-Cats."
Is modern life just too hard to understand? A "Sopranos" satire account called @MoltisantiThots tweets malaprop-filled takes on current events from the perspective of dimwitted Mafioso Christopher. In his writing newsletter Counter Craft, Lincoln Michel explains how bungled dialogue can be great for revealing character. Don't miss Michel's cosmic horror story "Dark Air" at Granta, cited as an example in the article.
Finally, the socialist magazine Current Affairs departed from its usual intelligent doom-forecasting to wax poetic on the divine qualities of felines, in Nick Slater's "Let Us Praise and Honor Cats". In a passage reminiscent of Christopher Smart's "Jubilate Agno", Slater writes:
While observing the daily life of a cat can give clues as to the unique ways she may be revered, it also has a more important function of clarifying why the cat should be revered. In other words, observation reveals the sacred vibes embodied by the cat. These are five in number, and they are:

Cultivating a deep connection to one's place—a cat is constantly strengthening his bonds to his home
Balancing one's needs with the needs of others—a cat will compromise, but only to a point
Making wise discernments—a cat recalls the situations when she can safely relax, and when she must be vigilant
Drinking in the world—a cat seeks to imbibe every aspect of his surroundings
Giving and accepting love without craving—a cat shows love to others when she is moved to do so (and only then), and receives the love of others when it feels good to do so (and only then)
Slater's advice on mindful cat-observation has deepened my connection to my time-share cat, Polly (our downstairs tenants' mouser, whom I spoil rotten when they're away). She will sit on my lap for exactly as long as I'm holding a bag of treats. I adore her.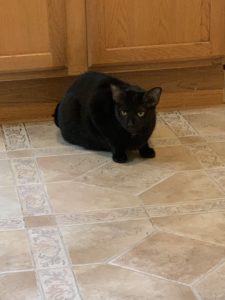 But does she approve of the linoleum, I wonder?