It's Socktober!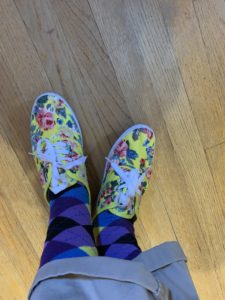 As part of my ongoing wardrobe reorganization, I was planning to wear a different pair every day, but it's been shorts-and-sandals weather for the past week and a half. Guess I'll have to try again in…Toe-vember.
I have decommissioned six bags of ladies' formal attire this month, some with the tags still on. "Dries van Noten! Tahari! Escada!" I lamented to my husband, for whom these words have less meaning than Pokémon names.
One vintage pleasure that never gets old, for me, is the Richard Tucker Opera Gala that was televised on PBS in 1994. A couple of years after seeing "The Phantom of the Opera" musical (a classic "do I want to marry him or be him" figure for gay trans boys), I had become a full-blown opera nerd. This gala was notable for Samuel Ramey's mesmerizing performance as the charismatic, sinister Reverend Olin Blitch from Carlisle Floyd's "Susannah". Watch it on YouTube. In this retelling of the Bible story of Susannah and the Elders, set in the American South, a young woman is falsely denounced by the Reverend as a sinner when she refuses his advances. Later, I had the great privilege of seeing Ramey perform this role at Lincoln Center with the fantastic Renee Fleming as Susannah. I was reminded of it when I read Floyd's obituary last month. The great American opera composer died on Sept. 30 at age 95.
In a more modern variation on this theme, feminist philosopher Sara Ahmed analyzes "How the Culture of the University Covers Up Abuse" in an article for LitHub, excerpted from her new book Complaint! (Duke University Press, 2021). She examines "collegiality", the loyalty of faculty to one another, as an obstacle and an indicator of what type of person "belongs". In a choice between loyalty to two faculty members, one of whom accuses the other of abuse or harassment, "collegiality" often weighs in favor of the person who is most similar to you in terms of race, gender, power, or background. This dynamic continually forces younger and more diverse colleagues out of the system.
The institutional fatalism I have been describing…which converts a description (this is what institutions are like) into an instruction (accept this), is also often familial. In other words, you are supposed to accept harassment and bullying because that is what families are like…

When we talk about protecting the institution, we are also talking about protecting some colleagues more than others, or even some colleagues against others. We are talking about how protecting one person can be the same thing as protecting the whole institution. There is a history to who becomes that person. There is a history to who does not become that.
While I'm indulging in 1990s nostalgia, remember when the libertarian/classical liberal wing of the conservative movement was about more than refusing to wear a COVID mask in Wendy's? That's when I was a susbcriber to Reason Magazine, which still publishes some good articles about protecting real civil liberties, like this piece about the oppressiveness of the cash bail system. In "Cashed Out", Leah Libresco Sargeant describes why the Brooklyn Community Bail Fund transitioned from paying poor defendants' bail to lobbying for the abolition of bail altogether.
Bail funds had looked like a way of outsmarting the system: Courts could keep setting bail, but a bail fund operated as a kind of nullification of the prosecutor's recommendation and the judge's decision. The revolving money seemed to many bail fund donors, including me, like a way of turning tragedy into farce. But the BCBF team had come to believe they'd essentially been conscripted into the carceral system they wanted to dismantle…

Bail funds let politicians get the softer outcome they wanted without having to put their names to an attempt to change the law. The BCBF's solution was to force lawmakers to confront the costs of the current system…

When the overwhelming majority of defendants whose bail is paid by a bail fund—and who thus have none of their own money at stake—show up at trial, it undermines the premise that cash bail was the least-restrictive option available. Those defendants didn't need to have money on the line in order to come back.
At the Ploughshares blog, Calvin Gimpelevich writes about navigating Jewish and working-class ideas of masculinity during his transition in "Among Men". Judaism historically placed more value on scholarly achievement than on brawn as the chief virtue of manhood. This can be good news for us mascs who can't hammer a nail straight. But this archetype also has a fraught history of anti-Semitic polemics linking Jews to queerness and degeneracy. Gimpelevich discusses how such anxieties were internalized by European Jews who wondered whether their people had become too physically weak to fight oppression. Later, male Jewish-American intellectuals like Norman Mailer displaced these insecurities into misogyny and imperialism. Gimpelevich doesn't take sides in this battle of masculinities, but carefully explores the pros and cons of both. (I had a special fellow-feeling for the author when he disclosed that he has face-blindness and can't drive. We are a type.)
In this 9-minute video, Rabbi Abby Chava Stein gives an engaging talk about Talmudic support for transgender identities. I recently read her memoir, Becoming Eve: My Journey from Ultra-Orthodox Rabbi to Transgender Woman (Seal Press). It's an inside look at life in one of the strictest, most separatist American Jewish communities. One can't deny that she knows her theology backwards and forwards!
An unexpected side effect of my transition is that I spend almost as much time thinking about breasts as my husband does. Other people's breasts (more interesting than I thought); my breasts (dysphoric but pleasurable); whether it helps to call breasts something else (chesticles?); whether the problem resides in the body or in others' reactions to it. In Allie Spikes' essay "Minimizer" in Gulf Coast (Fall 2021), about her breast-reduction surgery, she delves into the contradictory messages she received about her body as a young Mormon woman: look fertile enough to attract a husband, but not so voluptuous that you lead men into temptation. Big breasts create forced visibility, and visibility is unsafe–or at any rate, burdensome and confusing–in a society that feels entitled to project moral values onto your body.
I'm still thinking about the book talk I attended online for Da'Shaun Harrison's Belly of the Beast: The Politics of Anti-Fatness as Anti-Blackness. Harrison has been posting proud pictures of themself on Twitter lately–beard, belly, and breasts. I am encouraged by the way that they embody queerness as its own style, not an imitation of white cis gender norms. In their talk, they cautioned against surgery that came from a place of internalized bias against one's own body type, arguing that mainstream gender roles were specifically defined in opposition to the Black "other". It's an unsettling thought, because I also know how I can deceive myself with theory, arguing myself out of my feelings. But I really think I should read this book.