Happy Spooktober!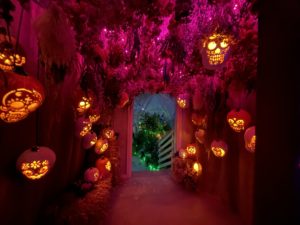 At the Naumkeag Pumpkin Show last weekend.
The entertainment world lost two legendary women this month, both of whom continued creating and performing well into old age. Country star Loretta Lynn died last week at age 90. Best known for her hardscrabble childhood anthem "Coal Miner's Daughter," Lynn also used her music to take a stand against sexism, as in the 1973 hit "Rated X" about the unfair stigma of divorce for women and 1975's "The Pill" about the liberating power of birth control.
Dame Angela Lansbury, whom we lost yesterday at age 96, was beloved for her role as crime-solving senior citizen Jessica Fletcher on "Murder, She Wrote," a cozy TV series that our family watched religiously throughout the 1980s and 90s. But did you know she got her start as the maid in the 1944 film "Gaslight," from which we get the popular term for reality-warping emotional manipulation? Lansbury was equally good at playing villains, winning a Tony Award for creating the role of Mrs. Lovett (seller of the cannibal meat pies) in "Sweeney Todd" on Broadway.
The Jewish Currents newsletter introduced me to the music of Ezra Furman, a mystical, anti-fascist indie rocker who recently released her ninth album, All of Us Flames. Interviewer Jael Goldfine describes it thus:
In the gritty world of the album, underground syndicates of Jews and queer people organize, traveling in gangs, speaking in code, and stockpiling weapons and intelligence while the powers that be are none the wiser. In a series of bluesy Dylanesque battle epics, love stories, and down-and-out road epics, Furman imagines the stories we might tell in the future about "the great transfiguration" that ended our current "brutal static order" and eulogizes those we lost to it.

The way she sings about revolution as inevitable can feel uncomfortable, like wishful thinking. But Furman, who recently completed her first semester of rabbinical school, takes seriously the idea of the messiah, and messianism's point-blank insistence that the world can and will be improved.
Furman says, "I think I'm doing anti-despair work." Listen to "Throne" from the album here.
A couple of good poems: At Frontier Poetry, Tyler Raso's "Emotion Recognition Task" captures how children's emotions are policed, doubted, and oversimplified by adults who don't want to feel deeply themselves. At Palette Poetry, Mónica Gomery's "Occupational Hazards" won the 2022 Sappho Prize. Interspersing fragments of a Talmudic gratitude prayer with troubling images from the news, this piece re-enacts the challenging practice of staying open to the wonders and sorrows of life.
The first Sunday of October is traditionally the feast day of St. Francis of Assisi. Kittredge Cherry at Q Spirit explores the saint's gender-bending side:
His extravagant love crossed boundaries. Other Franciscan friars referred to Francis as "Mother" during his lifetime. He encouraged his friars to be mothers to each other when in hermitage together, and used other gender-challenging metaphors to describe the spiritual life.

He spoke of himself as a woman during his very first set of meetings with Pope Innocent III in 1210, when he was seeking permission to found a religious order.  "I am that poor woman who in God's mercy is loved and honored.  God has begotten legitimate children through me," Francis explained.  The Pope was impressed by this gender-shifting argument and gave Francis his blessing to establish the new Franciscan order.

He experienced a vision of an all-female Trinity, who in turn saluted him as "Lady Poverty," a title that he welcomed. Francis allowed a widow to enter the male-only cloister, naming her "Brother Jacoba." His partner in ministry was a woman, Clare of Assisi, and he cut her hair in a man's tonsured style when she joined his male-only religious order. She had a queer dream of drinking sweet milk from the breast of Francis. Clare consistently communicated that she sought to imitate Jesus, while Francis compared himself to Mary.