Happy transgender month of rage, national novel avoidance month, 60 shopping days till Yule, etc., etc. I am not participating in 30 Poems in November this year, since I am starting a new novel about butts and sadness, but I encourage everyone to sponsor our talented Western Massachusetts poets in fundraising for the Center for New Americans.
A fixture of my childhood was the Dr. Bronner's shampoo bottle, every inch of the label covered in 4-point type that touted the "All-One-God-Faith" alongside inspirational quotes from Thomas Paine and "Man of La Mancha". On National Coming-Out Day last month, David Bronner, the CEO (Cosmic Engagement Office) and grandson of the founder, published this delightful blog post, "My Journey to Embrace He/They as My Pronouns!"
I've considered myself "about 25% girl" for quite a while. I was in a fair amount of denial about this until a dramatic LSD and MDMA mediated initiation into spirit world in Amsterdam in a gay trance club called Mazzo, in the winter of '95, that was also the  main underground spot.

In that experience, I realized that I wasn't "straight," "gay," or "man" or "woman"—but incarnate soul here to serve and get down, and that my toxic insecure aggressive masculinity was doing violence to my own feminine nature and soul…
David is rocking a fantastic purple feathered jacket in the accompanying photo. It inspired me to choose my most flamboyant shirt, rather than a more "masculine" business-casual, for my reading at Brattleboro Literary Festival the following weekend. Must have been a good choice because my books sold out!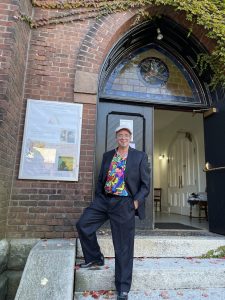 "Pride" comes to Kansas: LiveScience reports that "Elderly female lion grows 'awkward teenage mane,' baffling zookeepers". That transgender second adolescence can be a fashion dilemma, am I right?
Zuri began sprouting a mohawk-like tuft of fur not long after the zoo's male died, [Topeka zoo curator Shanna] Simpson said. Her mane has since filled in, but isn't as full as an adult male lion's.

"She just basically looks like an awkward teenage male lion," Simpson said.

Zuri seems more feisty since sprouting her furry new neck accessory, Simpson added, and has been growling, snarling, and roaring more often.

At eighteen years old, Zuri has well exceeded the lifespan of a lion in the wild, prompting Everatt to speculate that perhaps the lioness might be experiencing hormonal shifts due to extreme age.
Short king Harvey Guillén from "What We Do in the Shadows" is finally having his moment as the gay sex symbol I always thought he was. In The Advocate, he re-created Britney Spears' 1999 Rolling Stone photo shoot, with adorable gender-bending results.
"I always had moments like that where … society would tell me, 'You can't do this because you're fat. You can't do this because you're Mexican. You can't, just because you're queer.' I just hated hearing those no[s]," Guillén says, adding that Hollywood tried unsuccessfully to pigeonhole him into those categories of his identity. "All those stripes were all my strengths. And I reversed it and put it into my character … if you don't see yourself represented, then become the first."

Guillén says he learned early in life to "do what makes you happy, and if someone gets in your way… then just go around them."…

"It's important for all of us to be able to tap into our feminine and masculine self and be comfortable in that space. There is both in each of us, both powerful and beautiful," Guillén says. "I think when we let go of the fear of being too [much of] one or the other, is when we can breathe and just live."
In River Raven's Substack newsletter Liminal Legibility, the post "Haunted Masculinity" explores how the sins of patriarchy make it hard for us transmascs to envision healthy maleness, or even acknowledge that it's something we want.
It's a double bind often, being a transmasculine person. I am drawn to and desire to be masculine but the thought that this makes me a monster still slides into my thoughts on occasion. I want to be able to be a masculine person who is gentle and caring and loving. I like to think that I am, most of the time. It's something I strive for. But that is also at odds with what masculinity is supposed to be, as understood by the wider culture that I live in.

When I am assertive or take up space I might be accused as being "toxic". That particular accusation is new but it's something I've always dealt with, being pushed to make myself as small as possible and to let other people determine who I am, to be accommodating. It's hard to push against the way I've existed my whole life and it hurts when people accuse me of being the monster I have always deeply feared that I am. Yet, if I am to show myself as vulnerable then people will say that it is proof that I am really a woman. I don't have the kind of power that many cishet men have, but I make an easier target for that anger. I know this is an experience I share with many trans people.
This stunning piece at CRAFT Literary weaves in excerpts of testimony from eleven anonymous sexual assault survivors in their lawsuit against Eastern Michigan University. Read "All the Women I Know (Sandra, Dani, Roma, Alex)" by Christine Hume and Laura Larson, a co-winner of CRAFT's Hybrid Writing Contest.
…No woman I know hurrying across the street.

No woman I know accompanies me into the woods.

No woman I know could feel more lonely after.

No woman I know was alone on the swings when it happened.

No woman I know stages her own emergency. Not here. Not like that.

No woman I know needs to hear it today.

No woman I know wants to laugh along with the joke, but does anyway, a slight permanent hiss between her teeth.

No woman I know can read the writing on the wall or face it or find the wall behind the foliage.

No woman I know understands what she is up against.

No woman I know has an emergency greater than no-emergency, none greater than the normal emergency of her own body in the world.
Marissa Endicott's feature article in Mother Jones, "Home Was a Nightmare, Then Home Was Prison. Finally Home Is Now a Refuge", profiles a re-entry housing program in the San Francisco Bay Area for women who went to prison for killing their abusers. The piece details how the criminal justice system still fails to account for the factors that coerce women into committing crimes. Often the act for which they are punished occurs after years of unsuccessfully trying to protect themselves through legal means. The loss of bodily autonomy in prison then re-traumatizes them, making it even harder to establish a normal life when they're released.
Not apropos of anything, but since I binged "BoJack Horseman" during the Great Lockdown and had no one to discuss it with, I'm always happy to discover some intelligent disk-horse (har har har) about it. Philosopher Adam Kotsko muses here about "Animated Nihilism: Rick and Morty, BoJack Horseman, and the Strange Fate of the Adult Cartoon". (Watching TV as research is one of the perks of being a writer!)
"How does such emotionally wrenching material fit with an absurdist premise—especially with an absurdist premise that is taken so seriously?" Kotsko asks. He suggests that the classic sitcom format grew up alongside an economic and political order in which the white suburban nuclear family with male breadwinner was both possible and desirable. The next generation, exemplified by "The Simpsons", no longer saw that arrangement as ideal but still considered it tragically inevitable. In the third iteration of the format, BoJack, an alcoholic has-been actor, compulsively re-lives his past as the star of a cheesy 1990s family sitcom. That genre's predictable return to the status quo at the end of every episode has become a Sartre-like curse of repetition.
Two decades of watching serialized cable dramas have taught us what to expect from the story of a self-destructive anti-hero who is past his prime—even an anti-hero who happens to be a cartoon horse. When what we get instead is a weird kind of intensified sitcom, it opens up the possibility of more intense emotional effects than anyone would have any right to expect. In part, it's because of the animated format, which creates the kind of distancing effect I've already discussed in connection with the early seasons of The Simpsons. In the case of BoJack, the writers put that effect to good use, as the nightmarish back-story of BoJack's grandmother, who is lobotomized after grieving her brother's death for what her demonic husband considered too long, would come across as almost farcically over the top in a live action format. We somehow need a story of cartoon horses to give us the space to consider the very real cruelties of America's postwar patriarchal order…

…The question that remains, though, is why animals? Why not just stylized, animated humans? Though it is a unique premise in the context of contemporary TV, it is nonetheless the case that many cultures have imagined a past era when humans and animals interacted as equals. For the Greeks, this was the age of fable. For the Hebrews, it was the age of innocence—because surely it was not only the serpent who could talk. This latter example shows how dangerous and ambivalent that primal moment can be, how it can stand in for a loss that will stop haunting us.

I would propose that for Americans, that primal scene is precisely the sitcom, and by portraying it in the format of a fable, BoJack Horseman is providing us with space to process the loss of that postwar ideal, that nostalgia or "pain from an old wound" that is all the more intense for those—like me, and I suspect like you—who never really experienced that ideal in the first place, for whom those images on TV were at once fascinating and mocking. It invites us to take up a certain distance from that cultural formation, to allow ourselves to feel the emotions and hurts at stake in it in a new and candid way, to admit to ourselves how deeply we have been formed by this embarrassing dreck—and to begin taking inventory of what is promising and what is defeating, of what we can work with and what we might need to leave aside. It invites us to reflect on how we have been broken by the cultural expectations that shaped us—but without indulging the fantasies of either a clean break or a final attainment of the illusory "happiness" that ultimately amounts only to conformity.