Happy 2023, folks. My resolutions this year are to organize, downsize, and appreciate my resources.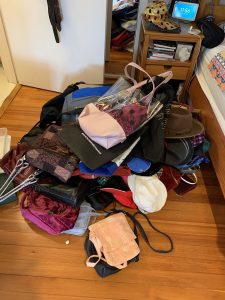 Because even when I was a woman, I didn't need this many handbags.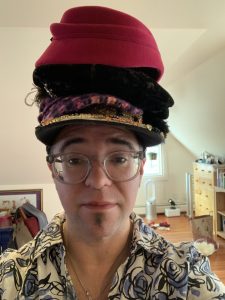 R.L. Maizes' satire piece at Electric Literature, "On the Eighth Day God Attended a Writing Workshop," imagines giving feedback on Genesis:
Levi, flipping through pages: The beginning was a quite a slog. Does anyone honestly care about the firmament? (Workshop participants shake their heads no.) Maybe just start with the apple incident and give us information about the rest of creation when we need it.

Selena, looking up from her laptop: Is the book supposed to be nonfiction? Because I don't get how a couple like Adam and Eve who are just starting out can afford to live in Eden when I can't even make the rent on my Jackson Heights studio.

God: Can I just—

Jason: Sorry, Ya. The Author doesn't get to talk during the discussion. You'll have a chance later.
This fantastic erasure-poem from J I Kleinberg in the latest issue of DIAGRAM, "Joining the Academy: A Job-Match Game," discovers gems in found text. Would you like to attend the "College of better odds" or visit "The Museum of jam"? Perhaps you are qualified to become a "professor of sweaty foot smell" or the "Prefect of Lips".
Also in DIAGRAM 22.6, this set of illustrations from a 1975 ornithology textbook shows birds multi-tasking by eating a lizard during sex. Their facial expressions suggest they know you're watching and they enjoy it.
In the Jan/Feb 2023 Harvard Magazine, Nancy Kathryn Walecki profiles happiness researcher Arthur Brooks.
The way Brooks sees it, happiness is a combination of enjoyment, satisfaction, and purpose. The "four pillars" that support that trifecta are family, faith, friends, and work.

"Faith is anything transcendent that helps you escape the boring sitcom that is your life," he says. It could be a meditation practice, time in nature, religious faith, or even playing music (he recommends fugues by his favorite composer, Bach). Work, on the other hand, is anything that helps a person sustain herself and her family. It doesn't necessarily have to be a passion, but it should be something that makes a person feel useful in the world…

…Americans have an inalienable right to pursue happiness, Brooks says, but are not always good at the pursuit. Instead of putting their energy toward building their four pillars, they chase the four idols: money, power, pleasure, and the admiration of others. "Mother Nature doesn't care if you're happy," Brooks likes to say. "She cares if you reproduce. So, the things we crave are not always the things that are going to make us happy."

…Most of Brooks's [Harvard Business School] students have an incorrect definition of happiness when they start his "Leadership and Happiness" class, he says. They tell him happiness is a feeling. "That's like saying that Thanksgiving dinner is the smell of your turkey. Happy feelings are evidence of happiness, not the whole thing," he likes to say.
Perhaps unsurprisingly, this December article from PsyPost reports that "People with unhappy childhoods are more likely to exhibit a fear of happiness, study finds".
Aversion to happiness beliefs were stronger among people who were younger, more lonely, and more perfectionist. They were also more common among people who believed in collective happiness, believed in black magic or karma, and recalled an unhappy childhood.

"The results show that people from collectivistic cultures are more likely to show an aversion to happiness than people from individualistic cultures," Joshanloo told PsyPost. "At the individual level, perfectionistic tendencies, loneliness, a childhood perceived as unhappy, belief in paranormal phenomena, and holding a collectivistic understanding of happiness are positively associated with aversion to happiness."

Importantly, reporting an unhappy childhood predicted aversion to happiness even after controlling for current loneliness. As Joshanloo explains, "This suggests that traumatic experiences as a child may have a long-lasting impact on the person's perception of happiness, independently of the individual's satisfaction with current relationships in adulthood."..

…"It is worth noting that happiness can be defined in different ways," the researcher added. "People are far more likely to be averse to emotional definitions of happiness (based on pleasure, fun, and positive feelings) than virtue-based definitions (based on finding meaning in life and fulfillment)."
For myself, I am noticing a connection between my vast amounts of disorganized possessions and my trauma-habit of believing that fulfillment is exclusively located in the future. When you live in a constant state of emergency, pleasure can seem like an unaffordable luxury in the present. The affirmation "I have enough" risks reconciling you to an untenable situation. The line between equanimity and despair is hard to perceive.
Transgender historian Jules Gill-Peterson's feature "Doctors Who?" in The Baffler (October 2022) finds present-day political lessons in the hidden history of transitioners who bypassed the medical gatekeepers.
Fifty years ago, a small group of women of color boarded a bus in Southern California bound for Tijuana, Mexico. They may or may not have stuck out in the crowd of Americans who crossed the border daily for the cheaper rates on goods and services. Once in Mexico, these women, who had journeyed all the way from San Francisco, walked into a pharmacy, bought out its entire stock of estrogen, and then carefully hid it inside their luggage. Back home, they made straight for the Tenderloin.

These women were trans—poor, many unhoused, and most sex workers who faced unending street harassment from the police, clients, and other Tenderloin residents. They were also the self-appointed doctors of their community. In hotel rooms, shared apartments, and sometimes the back bathrooms of quiet bars, they resold and administered the estrogen to their friends—other trans women who could pay in cash for injections. At the turn of the 1970s, this group of ad hoc smugglers and lay doctors were part of a vast and informal market in hormones that stretched along most of the West Coast…

…As the liberal principles of bodily autonomy and the right to privacy are eviscerated, the history of DIY transition offers one path out of the quagmire of zero-sum legal arguments and toward what might come after, or in the place of, state-sanctioned care.
Gill-Peterson describes how institutional trans health care "was explicitly designed to limit access to transition" to those patients who would pass as cisgender heterosexuals after treatment.
As feminists and trans activists struggle against the liquidation of the right to privacy, digging into the connections between DIY transition and DIY abortion is instructive. Both reject how medicalization and the state collude to restrict people's autonomy. And DIY history suggests that one of the core lessons of trans feminism is that you can steal your body back from the state—not to hold it as private property, but because the state power that polices and punishes your body, just like the doctors who execute its arbitrary policies, is fundamentally illegitimate. DIY treats legitimacy as arising from the people whose lives are most affected by resources and care, not from the abstract power of the state or medical gatekeepers.

The trans liberation activists of the 1970s who dreamed of free clinics were part of a political movement that wanted to depathologize transition, so it was no longer treated as a mental illness or a medical condition that required diagnosis and supervision from clinicians with no vested interest in trans people's happiness…

…DIY has envisioned freedom in starkly different terms. Instead of pathologizing people to grant them access to medical resources, or relying on the state's flimsy blessing, activists imagined community-run clinics where people to whom transition matters most would support one another and distribute the care they needed. In that framework, both abortion and gender transition would be something like resources for personal and collective autonomy—means to a life characterized by abundance, not dramatized medical procedures contingent on bizarre criteria of deservingness.