Starting off with some more Richard III content to make this blog even more niche. Don't worry, though, you can still count on Reiter's Block for plenty of trans and autistic links and flat-chested selfies. Someone once said that Yakko from Animaniacs is that guy who's had top surgery and takes his shirt off whenever possible. Relatable!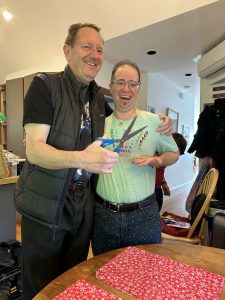 My partner has adjusted very well, as you see.
Armchair diagnosis of public figures, living or dead, is more of an entertaining pastime than a science. Still, I found some clues to my adolescent affinity for the last Plantagenet king in "Richard III – A Psychological Portrait" by University of Leicester psychology professors Mark Lansdale and Julian Boon, on the Richard III Society website. Due to his disability (thought to be scoliosis), a childhood disrupted by exile and political instability during the Wars of the Roses, and the death of his beloved wife and son, "A number of reasonably reliable indicators suggest Richard was more than usually intolerant of uncertainty in a way that will have had a marked impact upon his personality and his dealings with others." The authors go on to describe me as a teenager:
Intolerance of Uncertainty (IU) is a common syndrome that varies between individuals in degree and is associated with their general levels of anxiety. It probably has its origins in childhood as a need to seek safety by being able to control one's environment. Thus, if a child's perception of their caregivers is as being weak or vulnerable, one (but by no means the only) response to the social anxiety associated with that is to develop a degree of self-reliance. This can take many forms associated with an IU syndrome. Without suggesting pathological degrees of this, those evident in Richard include: the tendency to show excessive trust, attachment and loyalty in his positive attachments; piety and rigid moral values, possibly to the point of priggishness and inflexibility; a strong emphasis upon justice and the law; a high sense of personal responsibility; and a strong sensitivity to potential threats.
Indeed, in V.B. Lamb's spirited mini-biography, The Betrayal of Richard III, the king comes across as an Al Gore type in contrast to his elder brother Edward IV's Bill Clinton: dutiful and reliable, to the point of being mocked for his sincerity, and unprepared for the deviousness of his milieu.
Now, you might ask, who gives a toss about the ethics of a guy from 500 years ago, or the monarchy in general? Lamb's book is distressingly relevant to our "fake news" era, in that she documents how the next king, Henry VII, systematically doctored the historical record to make Richard look like a dictator who deserved to be overthrown. The medieval English populace had too little access to information, whereas we have too much. But either way, the average person can't do independent research on every subject, so we may be seduced into believing the story with the best production values, whether that's a hatchet job by Shakespeare or a Russian deepfake on Facebook.
I told you we'd get around to the trans content. Emotionally charged misinformation about our community is one of the biggest problems we face, too, because it peels away potential allies on the center-left when conservatives pass laws against our existence. I highly recommend subscribing to Erin in the Morning, Erin Reed's Substack newsletter that tracks state-by-state efforts to attack or protect trans civil rights. Fun fact, Erin just got engaged to Montana State Rep. Zooey Zephyr, who was silenced by her own House Speaker after she opposed the bill banning gender-affirming care. Tell me again how conservatives support free speech?
I do not have the time or attention span for podcasts longer than 15 minutes, so I am grateful when there's a transcript for any lengthy and information-heavy audio presentation. Death Panel, a podcast about the political economy of health, hosted this great discussion in 2022 in the wake of yet another New York Times concern-trolling article on trans healthcare: "Panic! At the Gender Clinic with Jules Gill-Peterson and Charlie Markbreiter":
Jules Gill-Peterson and Charlie Markbreiter join us to discuss Emily Bazelon's recent controversial New York Times Magazine cover story "The Battle Over Gender Therapy," its harmful and historically inaccurate portrayal of medical transition, and why liberals are so ready to embrace gatekeeping in trans healthcare. Jules Gill-Peterson is an associate professor of history at Johns Hopkins University and the author of the award winning book, Histories of the Transgender Child… Charlie Markbreiter is the managing editor of The New Inquiry.
Gill-Peterson expresses frustration that cis journalists in mainstream papers ignore the politicized history of medicine, no matter how often trans historians educate them about it. The issue gets framed as though neutral well-meaning medical experts are trying to navigate a middle path between angry queer activists and concerned parents. "WPATH" is the World Professional Association for Transgender Health, which sets the guidelines for our medical care, similar to the DSM-V for mental health. Its original standards were crafted by German endocrinologist Harry Benjamin, of whom Gill-Peterson says:
That's the model where trans healthcare is a special kind of health care that tries to not make itself available to as many people as possible, right. So the whole purpose of transgender health care is to stop as many trans people as possible from transitioning. And Harry Benjamin created the sort of standards by which we would try to do that, in the 1960s. And so those standards included heterosexuality, they included wanting to disappear into society, they included being a well behaved middle class person, they included trying to pass at all costs, right.

They included basically a kind of extreme respectability politics. And you know, as the 1960s wore into the 70s, and Benjamin was sort of a key player, this Harry Benjamin society, right, sort of was formed and became the kind of rudimentary sort of organization for clinicians. Now, it wasn't formed in the interests of trans people. It was formed because clinicians who provided hormones and surgery were generally regarded as quacks by other medical professionals. And so they just wanted to band together basically, to help lend prestige to what they were doing and to further their own institutional goals.
Framing themselves as a disinterested higher authority arbitrating between political factions, mainstream outlets like the Times or the Atlantic basically launder Christian Right anti-trans talking points as equivalent to trans people's accounts of our own lives. Gill-Peterson quips:
This is the sort of emotional attachment to liberalism as process, right, as deliberation, "as I, Emily Bazelon, who is not trans, who is not in the trans struggle, who doesn't have anything on the line, really went through, you know, an emotionless reflection period, and then bravely wrote this article. So actually, what I have to say is more important than, say, multiple trans people with PhDs who have been doing research for a long time, including decades, at some point," right.
Markbreiter concurs:
it's funny because again, this piece thinks of itself as being very neutral and unemotional, but actually, one function of it is an extremely emotional one, which is okay, liberals are increasingly eugenicist, have been increasingly so, you know, since COVID, how do they reconcile the fact that in this case, as in many other cases, they have the same position on childhood transition as literal fascists, right? 'Cause that might make you think, right, like you're doing something wrong, like if you're like, damn, I think like all the same things as like the Nazis, like that's kind of weird, right? Because I'm not a Nazi. So you're like, hmm, how do I make sense of that to myself?

And I feel like one function of this piece isn't to make sense, but just to be a kind of like soothing ASMR, spiritual glow for liberals, to be like, "listen," like "you're doing eugenics, but in just like a different way, like the vibes are just different with you. So like, don't feel bad about it. Like if your kid wants to transition, and you're going to actively block them from doing that and like make them suicidal, like you're not a bad person. You're just a concerned parent, and you are different than those bad Republicans."
This is where Gill-Peterson's expertise as a historian of childhood really sets things on fire:
And I actually think it's a really significant problem that we're facing in this moment, where I just see this kind of doubling down on sentimental politics, where children are perfect for this, right? This is what children, "child," the concept was invented for. It was invented for letting your fantasy of how you think the world could work, because you're a good person, override what is actually happening. And it actually is the way that you ideologically justify violence as humanizing, as caring, as loving kids, right? This article records so much mistreatment, harassment and violence against children, it records and openly discusses the abuse of children by institutionally embedded people who are given responsibility over them, whether it's parents, educators, politicians, or doctors, psychiatrists, psychologists, and social workers, and they celebrate the harm that they have done as properly caring for those young people, right? That is chilly. Right?

But of course that's not how the article presents it. But we have to really think about this is the ideological function that we come together around in American culture, right? Loving children means harming them. That is just completely normal business as usual. And it really, really disturbs me, again, to just see how intensely trans children are available to reinforce that structure.
Radical lesbian-feminist playwright Carolyn Gage got a fresh perspective on her childhood when she received an autism diagnosis…around age 70. In this blog post about her inner life with her dolls, I see myself re-enacting the English wars of succession with Lettie Lane and the Ginghams. (I went through a lot of Scotch tape with all those beheadings and resurrections.)
Gage writes:
I would play with the dolls for six to eight hours at a stretch. When most little girls played with dolls, they would change up the outfits or hold miniature tea parties. When Barbie came along about five years later, little girls could put her in her car and drive her to the beach. My idea of playing with the dolls was very, very different. My dolls were engaged in complex plots involving abductions, and magic, and murder, and illicit romance… There were always four or five subplots going on, and the lives of the servants were as intensely dramatic as those of the court. In fact, the heroine of the castle was a rescue doll whose hair had been pulled out and whose body had been vandalized with ink.  She was a doll of mystery, greatly favored by Ginny and the Powers that Be. Her name was Pat, and it was only later, as an adult, I realized that the avatar of my youth had been a survivor and a gender-non-conforming lesbian. ,

There was something else I was doing in the dollhouse. I was plotting an escape from reality. My family was not well. My mother was a practicing alcoholic, as was my brother–who, like me, was on the spectrum. My father was a sex/pornography addict with scary and confusing dissociative disorders. I was terrified of him. He was a tyrant, and, from what I experienced as a child, he was never called into account for his malevolence.  None of us could ever mount a successful revolution, and any signs of resistance were met with cruelty and sometimes violence.  BUT… in the dollhouse, amid all the epic dramas, goodness and innocence would eventually prevail. To that point, the females always won, and matriarchy would always carry the day. Unlike my father, the perpetrators in my stories would be killed, banished, or won over by good. My dollhouse kept my belief in justice alive. It was an alternative world, and, quite frankly, one that I preferred to inhabit… which I manage to do, as much as possible. The dolls were my true family and my dearest friends.
Lesbian commune edition: Carrie is the therapist, Katie practices witchcraft, Sarah grows organic marijuana, and Becky fixes the farm machinery.