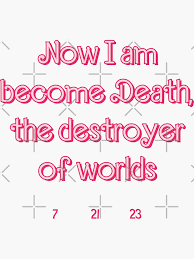 Happy pink apocalypse, readers! Can you believe I have not seen the "Barbie" movie yet? Clearly, I'm working too hard.
Recent signs of the End Times include the ongoing right-wing attack on libraries. BookRiot reported on July 7 that "Hoopla, Overdrive/Libby Now Banned for Those Under 18 in Mississippi":
Despite the age of consent in Mississippi being 16, no one under the age of 18 will have access to digital materials made available through public and school libraries without explicit parental/guardian permission.

Mississippi has a new law on the books directly impacting access and use of digital resources like Hoopla and Overdrive for those under the age of 18 throughout the state. Even if granted parental permission, minors may not have materials available to them, if vendors do not ensure every item within their offerings meets the new, wide-reaching definition of "obscenity" per the state. Mississippi Code 39-3-25, part of House Bill 1315, went into effect July 1, 2023, and libraries across the state have scrambled for how to be in compliance…

By definition, any vendor is out of compliance by simply having materials available in their system which depict sexual reproduction or queerness in any capacity. Images of nude female breasts–which are often part of sexual education, reproductive education, and/or biology and anatomy books written for those under the age of 18–would be out of compliance with the law.
These gatekeeping requirements further entrench educational inequality. Teens without good libraries in their hometowns now face further limits on what they can learn digitally. Those exploring different beliefs and identities will have to out themselves to their parents or lose access to potentially life-saving information.
In other free speech news, the Texas Tribune reported on July 11 that "Texas A&M recruited a UT professor to revive its journalism program, then backtracked after 'DEI hysteria'". Evidently, A&M didn't notice that UT-Austin journalism school director Kathleen McElroy had covered diversity and inclusion stories for the New York Times for 20 years. No wonder their journalism program needs help. In any event, some of McElroy's fellow A&M alumni made a stink that she was talking about racial equity–the horror! We can expect more cowardly behavior from other school admins, in light of the state's crackdown on talking about things that make white people uncomfortable:
Behind the scenes, A&M spent weeks altering the terms of her job. After hearing about the concerns, McElroy agreed to a five-year contract position without tenure, which would have avoided a review by regents. On Sunday, she received a third offer, this time with a one-year contract and emphasizing that the appointment was at will and that she could be terminated at any time. She has rejected the offer and shared all of the offer letters with the Tribune.

The situation comes at a fraught time at Texas public universities. Schools are preparing for a new state law to go into effect in January that bans offices, programs and training that promote diversity, equity and inclusion. Recently, the Texas A&M System started a systemwide audit of all DEI offices in response to the new law.
Also in Texas, the Supreme Court's ill-founded decision last month in 303 Creative LLC v. Elenis is empowering other homophobes to deny services to gay couples. According to the Texas Tribune:
McLennan County Justice of the Peace Dianne Hensley filed a lawsuit after a state agency warned her about refusing to marry gay couples. She hopes a recent U.S. Supreme Court case about religious freedom helps her cause.

Since Waco judge Dianne Hensley received a public warning from the State Commission on Judicial Conduct for refusing to perform same-sex marriages in 2019, she's waged a public battle against the state agency.

She's long claimed the governmental body violated state law by punishing her for actions taken in accordance with her religious faith. Now, she has submitted a brief arguing that the recent Supreme Court ruling in favor of a business owner who refused services to same-sex couples will help her case…

Her lawsuit alleges that the commission violated her rights under the Texas Religious Freedom Restoration Act. Her lawsuit was dismissed by a lower appeals tribunal, but last month, the Texas Supreme Court said it will hear arguments on whether to revive the state judge's lawsuit.
How this will be resolved is anyone's guess. In her role as a public official, Hensley doesn't have as much freedom of speech as the private website designer in 303 Creative. At least, that's how prior case law has treated public employees' rights to express views contrary to their employer. But given that the Supreme Court shouldn't even have heard 303 Creative, because the plaintiff lied about having been asked to create a gay wedding website in the first place, one can't count on precedent to stand in the way of right-wing judges' desired outcome.
Recent state-level bans on trans health care have repeatedly failed court challenges. The Intercept's Natasha Lennard warns that we still can't be complacent, based on Republicans' successful long game for overturning reproductive rights.
Democrats failed for decades to vigorously defend reproductive rights by lending all too much credence to the Christian right's anti-abortion stance. President Bill Clinton's famous phrase — that abortion should be "safe, legal, and rare" — treated abortion as an unfortunate necessity rather than an integral part of bodily autonomy and a public good.

There's a relevant analogy here between the common liberal treatment of trans kids: that they're an unfortunate rarity, which should be tolerated but not celebrated. Against such a threadbare defense of trans existence, the violently committed anti-trans right will surely win.

Liberals putatively opposed to the GOP's draconian anti-trans onslaught should take heed of the judges' rulings on trans youth health care. All too many powerful liberal organs — the New York Times perhaps chief among them — have channeled Republican talking points by treating trans children as a site of peril, and gender-affirming treatment for kids as potentially too experimental.

In point after point, however, federal judges from Florida to Tennessee to Arkansas have agreed that arguments treating gender-affirming treatments for youths as untested and dangerous are, quite simply, not based in fact.

"What is clear is that before all kinds of judges, when these bans are tested by what the states are claiming is their evidence, they categorically fail," Strangio told me. "What that means is that you have a popular discourse playing far more hostile to trans people, far more open to misinformation, than a federal court is at this stage." Strangio added that "it would be helpful if the center left media were to then cover the cases, after having sparked fear everywhere."
While I personally feel abortion raises moral questions of harm, which trans healthcare does not, I've come round to understanding why our struggles are linked. I can maintain that abortion is an ethically problematic choice in some circumstances, and also that it's none of my business, let alone the government's.
The great lesbian poet Minnie Bruce Pratt passed away on July 2. My mom-of-choice Roberta and I had the privilege of meeting her when she donated the books and papers of her late spouse, Leslie Feinberg, to the Sexual Minorities Archives in Holyoke. Pratt's poetry collection Crime Against Nature, which had recently been reissued by Sinister Wisdom, described losing custody of her sons when she came out. I often think of her poem "This Is My Life You Are Talking About" when cis-het folks debate the "gay issue" or the "trans issue" as if we're not in the room.
Need a minute to smile? Enjoy this AI-generated Elvis video from There I Ruined It.