I was in NYC the last weekend of June for the Pride March, which I watched from the steps of my former church. The Church of the Ascension is on Fifth Avenue toward the end of the parade route. I was very moved to see members of the parish, in T-shirts reading "Proud Episcopalian," spend hours passing cups of water to the marchers. Too many heads in the way for me to get a photo of them, unfortunately.

The parade seemed more family-friendly this year than the last time I attended, five or six years ago. Despite the perfect weather, few bared all. I think there were also more religious groups, especially Episcopal ones. One of the grand marshals was Rabbi Sharon Kleinbaum of Congregation Beth Simchat Torah, where my parents and I used to attend High Holy Days services. If you're ever in NYC on Shabbat, check out CBST — Rabbi Kleinbaum gives the best sermons around. (Our family is at least three stripes in the diversity flag all by ourselves.)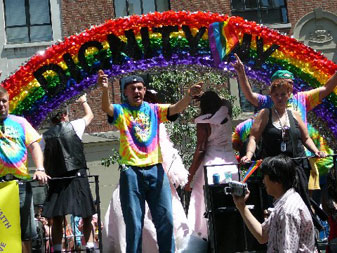 Dignity USA is a Catholic group that advocates equality for women and gays in the Church.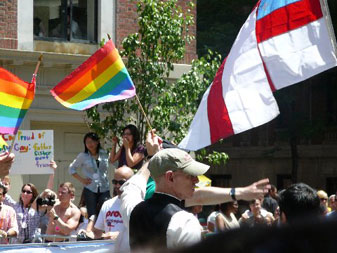 The Episcopal flag and the rainbow flags.




I forget which group this was, but I liked their color scheme. Modern life offers too few opportunities to dress like a butterfly.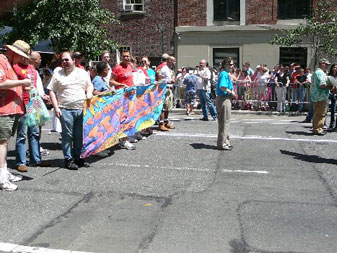 St. Bartholomew's Episcopal Church members with their "Come to St. Bart's" banner.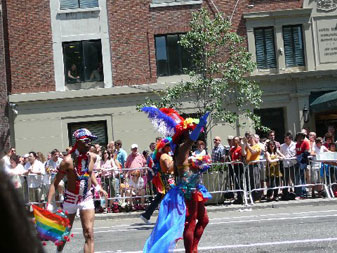 As usual, the drag queens were the best-dressed.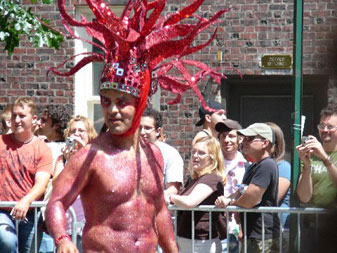 This was the noblest Roman of them all.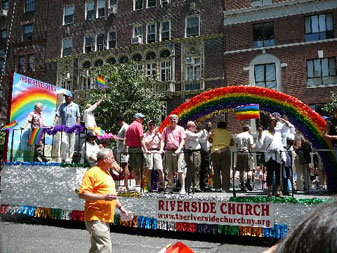 Riverside Church, an interdenominational Christian church near Columbia University, is known for its liberal political activism. Their senior minister emeritus, the Rev. Dr. James A. Forbes Jr., is an internationally acclaimed preacher.
Well, I guess that's it till the Halloween parade…